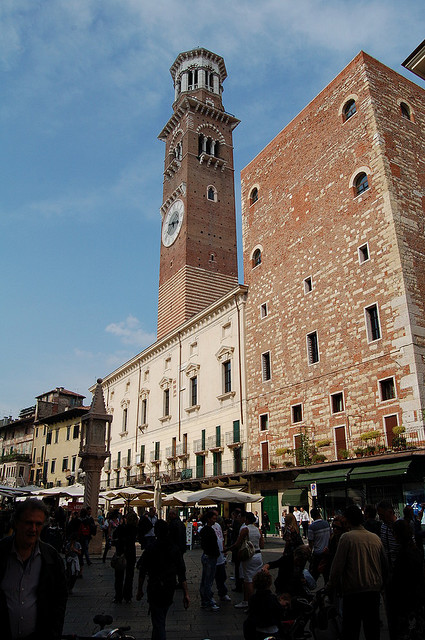 Verona may have been the home of Romeo and Juliet, but it's home to many other amazing treasures as well – and they are not all works of fiction. While many tourists visit the city that was the inspired homeland of Shakespeare's tragic lovers, there is much to see in this fair city beyond the commercialized tours of two teenagers immortalized in a fictional play.
Piazza delle Erbe
An excellent place to visit in the city, the Piazza delle Erbe was originally the forum of Verona many centuries ago. The large rectangle is the heart of Verona today and wandering around the fair city will bring visitors face to face with many ancient treasures including stunning towers and buildings dating back to the medieval days. There are many cafes in the piazza as well as shops catering to tourists.
Lamberti Tower
Leave the most popular square in all of Verona and climb to the top of the tallest viewing point in the city. Be ready to climb plenty of stairs or bring along some extra cash to pay for the trip up the elevator – although it only goes most of the way, not all of the way, to the top. Once you're perched at the top of the Lamberti Tower, you'll be impressed with the stunning views and vistas from the air over the entire city. At the base of the tower is the charming Palazzo della Ragione as well as the Piazza delle Erbe.
Archeological Museum
Italy is full of ancient ruins and Verona is no different. Dating back to the 1st century, the Roman theater is located outside the city and you're able to enjoy the theater performances held in the summer or impressive views of the river and stone bridge in other months. Near the theater is the Archeology Museum that houses ancient mosaics, bronzes by the Etruscans and Romans as well as many ancient Roman sculptures.
Roman Arena
Also built in the 1st century, the Roman arena in Verona is impressive in size and is still used frequently today. The arena can seat 25,000 spectators and since 1913, an opera festival has taken place inside the theater in the warmer months and many other plays and theatrical performances year round as well. When visitors approach the arena, they will see a blend of old and new with the seating for the opera performances standing out against the ancient stone. A trip to see the shows in the evenings makes these differences simply fade away.