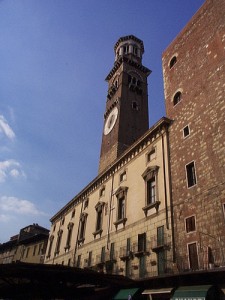 In the 13th and 14th centuries, Verona was often referred to as 'Little Rome." The beautiful city was almost as popular for business as Rome and its importance earned it the nickname of piccolo Roma, or little Rome. While a landmark for business, Verona was well known for other reasons as well including its endless quarreling of residents and impressive artwork.
The Feuding of Verona
Shakespeare took a classic old story of star-crossed lovers and made it approachable and easy to remember. Romeo and Juliet takes place in fair Verona, but while fictional, the feud that split the two families wasn't entirely false. Under the Della Scala family during the 14th century, Verona was well known for vicious feuding families as well.
Under Roman Rule
Verona was one of the most important cities under Roman rule during the age of the early Roman Empire. Important for its location, Verona still contains many of the best ancient relics of this time period of any city in the surrounding area. Still, even with such an amazing collection of ruins, Verona is often an afterthought rather than an intentional destination.
Visiting Verona
Thanks to the close location of Milan and Venice, Verona isn't usually the main destination for a day trip. It can easily entertain travelers for multiple days, however, should they decide to make it a point to visit.
The Arena di Verona – The third largest arena in Italy, much of the original architecture of the amphitheater remains. If you visit Verona in the summer months, you'll be able to visit the theater for a production of an opera – perhaps even Romeo and Juliet.
Castelvecchio – An interesting collection of stones and history, Castelvecchio is an ancient military fortress that has been transformed into an art museum. Visit and you'll see many works of art housed in an environment that can only be called medieval.
Casa di Giuletta – A small house in Verona, the city claims this is the home of Juliet of old. Of course, evidence has shown that it's not likely Juliet even existed, much less lived in the home that you can visit today, but as far as tourist traps go, this is a fun one.
Piazza del Signiori – Home to an impressive octagonal bell tower, the Torre dei Lamberti, this piazza is a study of interesting people and sights. All told, you can see the whole of Verona from the top of the tower – a perfect capstone to a visit.