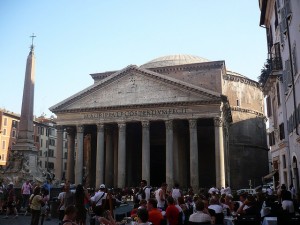 While Rome wasn't built in a day, you can still build a fair impression of the city in a day if that's all you have when visiting. If you're only going to be in the eternal city for a day trip or a layover, invest your time in the best sights possible to maximize your time.
Your Time in Rome
The time you're in Rome matters a great deal. The churches in Rome are always open from 7:30 am to 12:30 pm and then closed until late afternoon when they open again until 7:30pm. This means you'll need to plan your trip around these schedules. When you arrive in Rome, be ready to walk in sensible shoes and layers of clothing.
Be sure that your shoulders and knees are covered as it is the respectable thing to do inside the churches and find a way to secure your money to your body so that you don't have to worry about pick-pockets as you walk through the city. If you plan to make the most of your time in Rome, you'll want to have money for cabs – they are much more efficient than busses at moving around town.
The Itinerary
If you have only one day, you'll want to plan your time so that you make a circuitous route through the city. This saves on travel back and forth from one side of the town to the other. For example, you might start near the Pantheon and wind up back at one of the famous piazzas to meet your party. Some essentials on the trip:
Pantheon – There is a charming caffe behind the Pantheon that will suit your breakfast needs perfectly. Once you've eaten at Caffe San'Eustachio, visit the Pantheon first thing in the morning. Then stop by the Piazza Navona. Don't linger too long as you're on a time crunch.
Vatican – Take a cab to the Vatican, and be sure to arrive before 10:30 or 11. Visit the Vatican museums and spend some time appreciating the Sistine Chapel before it closes at 12:30. Admire the outside of St. Peter's Cathedral while you're in the Vatican and grab a snack if you can.
Colosseum and Surrounding Area – As you leave the Vatican in the early afternoon, grab another cab to tour the Colosseum, Palantine Hill and the Forum as they are all in the same general area. On your way back to the meeting place, visit the Trevi Fountain. If you have any time remaining, you should slow down your pace and poke into the shops to do a little shopping or just grab a glass of wine and relax outside to watch the citizens of Rome walk by.