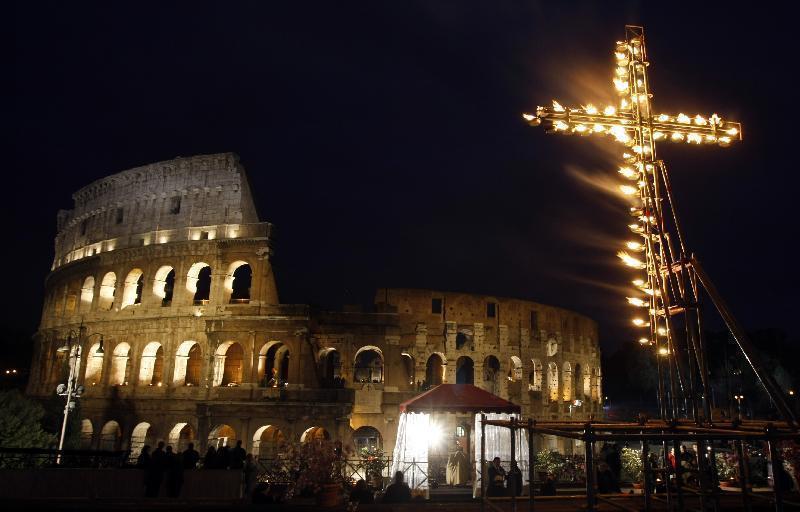 Rome is a must  during Easter week, or Settimana Santa, especially to feel the spiritual atmosphere in there thanks to the events led by the Pope in Vatican City and Rome.
How starts Easter Week? With the Palm Sunday and special mass delivered by the Pope in Saint Peter's Square inside Vatican City. This event is free, and the square gets totally crowded . The Blessing of the Palms, the Procession, and the Holy Mass for Palm Sunday take place in the morning, tradintionally starting at 9:30 am in Saint Peter's Square and you can follow also on TV.
Holy Thursday Mass is another event to follow in the Saint Peter's Basilica, starting around 9:30am. A Papal Mass is also public in the Basilica of Saint John Lateran, which is Rome's cathedral, in the afternoon around 5:30pm.
On Good Friday there will be a Papal Mass at the Vatican in Saint Peter's Basilica at 5pm. In the evening the ritual of the powerful Via Crucis is re-enacted starting from the Colosseum, usually starting at 9:15-9.30pm.  Pope Benedict XIV was the one who placed the stations of the Via Crucis at the Colosseum in 1744. A big cross made of burning torches will lit the sky while the stations of the cross will be narrated in several languages. The Pope gives a final blessing in a very moving atmosphere. The popular procession collects big crowds.
Papal Mass and Easter Vigil are either a topic moment and a great moving event. You should be in Rome during the Holy Saturday at 9pm in Saint Peter's Basilica, one of the top sights to see in the Vatican City. Its marvellous dome attracts millions of visitors each year. Also it is pretty famous as being the resting place of many former popes, including John Paul II and Saint Peter.
And if you are looking for comfortable accommodations in Rome, you can choose among structures of different types: holiday houses, b&b or Farmhouse near Rome such as Il Bagolaro.