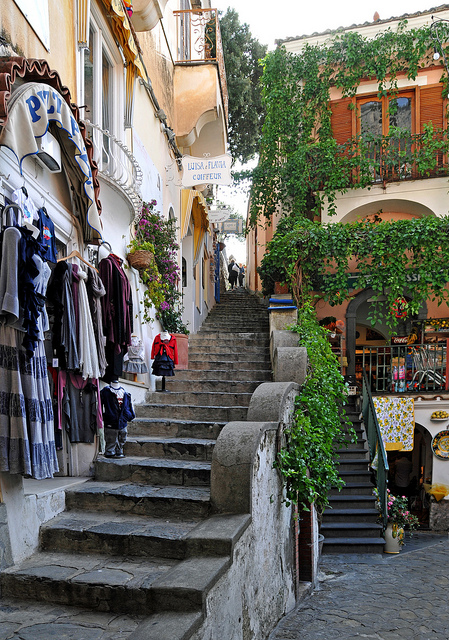 Luxurious, romantic and simply beautiful, Positano is located in the heart of the Amalfi Coast, the famous stretch of coastline that draws the rich and fabulous all year long. Positano started life as a village popular with artists and writers. It has grown to be a charming resort town filled with luxury and glamour, but still able to keep ties with the fishing village that it once was. From pebble beaches to crystal clear seas, Positano is the ideal spot for relaxing and enjoying the slower pace of luxury that you can only find in Italy.
The Streets of Positano
One of the best features of Positano is that almost the entire city center is a pedestrian zone. There is plenty of space to walk and explore, and if you're planning a trip to Positano, you'll want to be sure that you bring comfortable shoes. When the bus or taxi drops you off, you'll most likely be positioned near the Chiesa Nuova, at the top of the city.
The city itself is draped over the cliffs along the sea, and to get into the city, you'll start climbing down the stairs. The Thousand Steps is a series of winding stairs that lead all the way through town and down onto the beach. You can see a great deal from the steps and they will take you into the heart of the city where you can continue your wandering and exploring without the threat of crazy Italian traffic.
Shopping in Positano
The appeal of Positano is spread between the luxury resorts overlooking the water, the beaches that spread along the bottom of the city and the glamorous shopping that is available to visitors. There are numerous designer boutiques in Positano and you'll find the home label, Moda Positano throughout the city's most elegant shops.
If you're looking for custom shoes, Positano is the place to visit. Custom shoemakers will actually craft shoes for you while you wait. Leave your measurements and preferences and then come back after lunch in one of the four-star resorts in town. Don't just limit your shopping to fashion items, however, be sure to try the many different types of seafood and the signature drink of the coast, the Limoncello – which tastes distinctly of the lemons grown along the coastline.