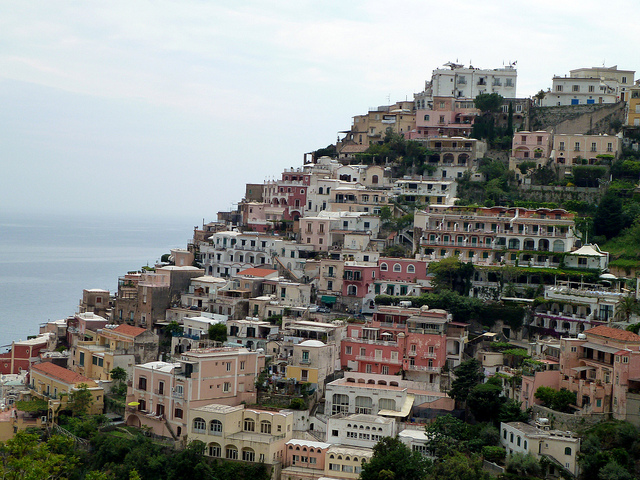 One of the most romantic towns in Italy, Positano is located directly on the side of a cliff. Build first as a fishing village, the charming town of Positano grew up rather than out, and the layers and stacks of pastel buildings are now one of the most relaxing and charming sights in all of Italy – a true romantic haven.
The Charms of Positano
The little fishing village grew famous in the 1950s as an increasing number of artists and writers found the mild climate and beautiful seaside views almost irresistible. The town has grown considerably, but it is still a pedestrian town. The many layers of the town are connected through staircases and winding streets making it a bit difficult to navigate, but absolutely breathtaking at the same time.
Located in the direct center of the Amalfi Coast, Positano is south of Naples and directly on the edge of the Mediterranean. The city looks out at the Le Galli Islands – the same three rocky islets where the famed Sirens of mythology were said to live. The coastal location makes Positano an excellent location to visit year round, but expect larger crowds in the warmest months stretching from April through October.
Attractions in Positano
One of the most striking attractions of the city is the core of the city itself – the steps. When the bus drops you off at the top of the city, you'll be able to walk down the Thousand Steps, or the winding staircase that runs from the top of the city to the bottom. Continue down the steps to the main street and you'll find the beach.
Explore the beach, the town and the countryside in the same day – all without the need of any public transportation or taxies. For this reason, the town of Positano might not be the best choice for those who are unable to walk well or who don't have the stamina for the steps. Transportation is provided, of course, but it does detract from one of the main attractions of the city.
Before you head back to the other cities or continue your tour of the coast, be sure to stop into some of the high end shops along the streets of Positano. There are many fashion boutiques in the city and you'll find outstanding sandals and footwear especially. You can even have shoes custom created for you while you wait – a true luxury only a town like Positano can offer.