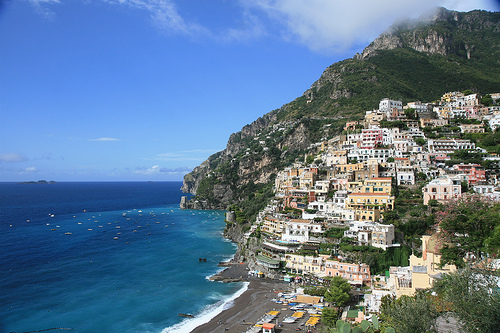 The stretch of coastline termed the Amalfi Coast is famous for its beauty. The coast is a stunning example of Italian beauty that has been inviting celebrities and other tourists for decades. The stretch of road and cities along the coast of the Mediterranean is dotted with five star resorts and restaurants, but to experience the true glory of this beautiful region, you must move beyond the resorts and eateries and into the true life and livelihood of the region.

Tourist Season
During the hottest season of the summer, the best hotels along the Amalfi Coast are packed with tourists traveling in groups and on cruise ships. These are the months where the hotels experience the maximum capacity making it a challenge to enjoy your stay. Instead of focusing on the expensive resort style hotels that dot the region, opt for family run inns and rental apartments.
These smaller establishments offer a closer, more intimate surrounding. Most rooms are large and welcoming with large patios and often the rooms are found at a bed and breakfast style inn saving you money on food as well.

Eat Simply
The Amalfi Coast features some of the best dining on the planet, but save money by eating the local breakfast at a bed and breakfast or grabbing a small meal from a bistro. Blessed with beautiful weather and stunning sights no matter where you turn, don't eat inside. Pack a picnic or grab some food to go and sit outside to enjoy the sites along the beach or up on a hillside with the beauty of the coast stretching out in front of you.
Dinners should focus on the most wonderful food available in the Campania region – pizza and pesce. Octopus, calamari, clams and calamari are harvested from the sea on a daily basis, so those delicacies and many more are fresh every day. Enjoy these items in smaller restaurants and stop by markets to pick ups some of the crusty loaves of bread and fruit for snacks.

Transportation along the Amalfi Coast
Driving along the hairpin roads and tiny streets is a challenge for even the best Italian drivers, so it is far better to take the bus between the cities. Of course, you'll need to follow the etiquette of the region on the buses. Buy your bus pass ahead of time, stamp it before the bus begins moving and always give up your seat for women and older passengers. Avoid bringing large bags onto a small bus, and avoid looking down unless you have a strong stomach