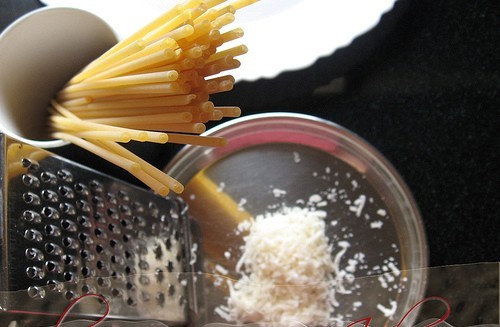 Some claim that the recipe is from the town Amatrice (hence amatriciana), and some other, on the contrary, believe that this is a Roman dish.
Anyway the differences between the two recipes are considerable: with no tomatoes and onions in Amatrice and with tomatoes and the onion in Rome.
The recipe actually was born in Rome, and the inhabitants of Amatrice created a "copy", revising and correcting it.
Tradition says that the inhabitants of Amatrice use to go to spend the winter in Rome, because of its milder climate.
There were no great sympathy between Romans and Amatriciani, and many popular sentences are still alive referring to this competition.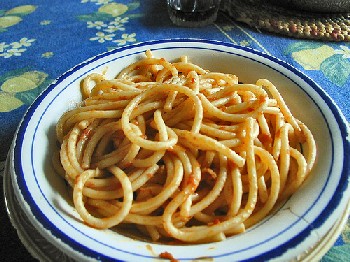 The origin of the word "Matriciana" are many and different, from:
1) Tomatoes: they were used for the sauce and were kept from the time of the Romans in special skins or jars, which in Latin are called "matara".
2) The origin of the spaghetti "matriciana" is lost, however, a very long time ago, society was governed by "matriarchy". This peculiar dish was served only in very specific rites and specially during the winter solstice among the mountains, where women use to meet and males were not only excluded, but totally unaware of it.
 
3) To cook the sauce was also used an aromatic herbaceous plant called "matricale".
We must remember that tomato was introduced to the West after the discovery of America, so we really fear that this theory is somewhat 'too fantastic'.
Recipe
 
Ingredients:
2 kilo of bucatini,
150 grams of bacon(it would be better to have the Italian "Guanciale"),
a tablespoon of extra virgin olive oil,
dry white wine,
6 or 7 ripe tomatoes,
a piece of red pepper (or more, if you like spicy),
100 grams of grated "pecorino romano" cheese,
salt.
Preparation:
Grease the pan with the tablespoon of olive extra virgin olive oil and brown the bacon cut into cubes with hot pepper.
Sprinkle with white wine, then remove the bacon to remove the  excess of oil and not to let it to become too hard to eat. Add the tomatoes, cut into slices and seedless (to remove the skin you can boil them for a few seconds).
After 2 or 3 minutes put in the pieces of bacon and remove the red pepper. Mix  again for a very short time. Boil the pasta "al dente" and drain it. Put it in a bowl and add the grated pecorino. Add the sauce and mix. If you like you can add some more pecorino on top of it before serving.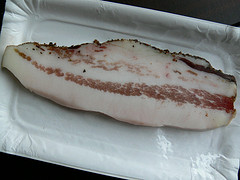 For more information about Restaurants and Hotels in Rome Click here.