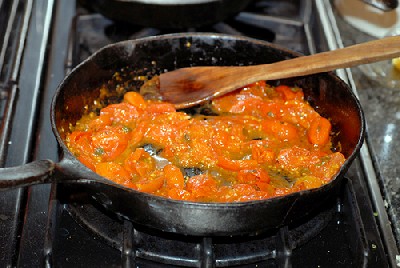 Ingredients for 4 people:
360 gr. penne or other pasta
400gr. tomato
1 small onion,
half stick of celery,
a piece of carrot,
a pinch of sugar,
oil
salt
pepper (if you like).
Preparation:
– Finely chop onion, celery and carrot.
– Heat a little extra virgin olive oil in a saucepan and add the chopped vegetables.
Fry on medium flame for few minutes, being careful not to burn.
– Then add the peeled and seeded tomatoes (peeled tomatoes or tomato sauce are also ok).
– Mix well and boil, adding salt (and pepper to taste).
– Continue cooking for 25-35 minutes, adding from time to time, a ladle of hot water, so as not to dry out the sauce.
– It is possible the sauce's taste is slightly sour (this also depends on the quality of tomatoes used), then add a teaspoon of sugar.
– While cooking the tomato changes colour from red to orange. This will help you recognize if it is ready. Tomato-based sauce has a very different cooking times, I advise you to cook no more than 40 minutes.
– When it is cooked add the pasta.
–    Serve hot.
Where to eat and stay in Italy.