Spaghetti con le vongole.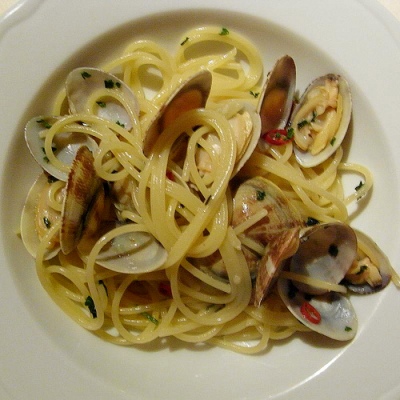 The spaghetti with clams are one of the most famous and appreciated dishes  of the traditional Neapolitan cuisine, where they are most known as "vermicelli with clams."
Although now the spaghetti with clams are prepared in every corner of the world, it is impossible for anyone who goes to Naples not to try this delicious dish.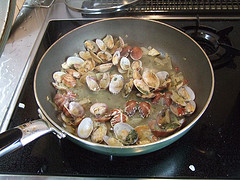 The spaghetti with clams have also become one of the dishes required for the Christmas and New Year meals.
In Naples there are at least two ways to cook them. The tomato is the main difference: it is an ingredient or it is not?
Some people prefer the spaghetti with clams without tomato sauce, others are with it, some eventually accepted to crush some cherry tomatoes in the oil.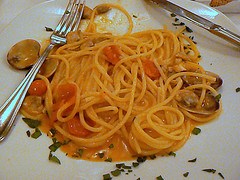 However with or without tomato, you need fresh clams and you have to let them purge in water and salt for about an hour.

INGREDIENTS
• 500 gr. clams
• a dozen sprigs of parsley
• 1 clove garlic
• 5 tablespoons extra virgin olive oil
• pepper
• 160 gr. spaghetti
• salt
• 5 / 6 cherry tomatoes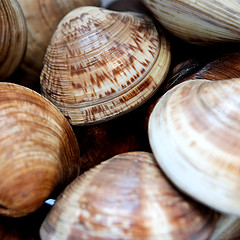 Recipe: Spaghetti with clams (white = with no tomato)
Chop 2-3 cloves of garlic and fry in a pan with olive oil until they slightly brown.
Then add the drained clams and cook them over high heat for 2-3 minutes until they all opened.
At this point remove shells from half of the clams and live aside the rest for decoration (the half shelled remains in the pan with oil).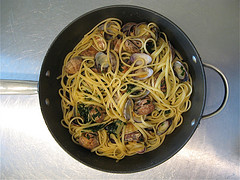 Add the finely chopped parsley, salt and a touch of pepper and then pour into the pan the spaghetti (or vermicelli) cooked very al dente.
Make spaghetti season in the oil for one minute and serve immediately decorating with other non-shelled clams.
Variant with crushed cherry tomatoes:
It is cooked in the same way as the first recipe, but after having shelled half of the clams, 7-8 crushed tomatoes are added to the oil with finely chopped parsley, salt and pepper.
Cook for one minute over high heat. Then you add the spaghetti and serve as the above recipe.
Photos from the albums of: mollyali, commonculinarian, Simon Aughton, lecates, toyohara, paolovalde, just positano.
Where to Eat and Stay in Naples.