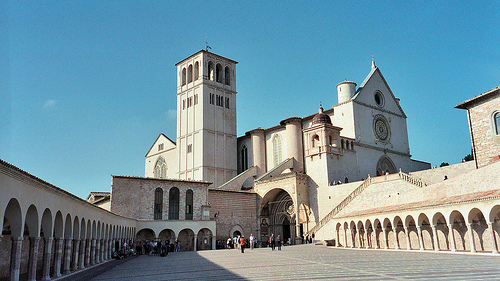 Popular with tourists who are anxious to skip the crowds of Rome, Florence and Tuscany, Umbria is just far enough off the beaten track to not attract the large swarms of Italian tourists in the summer months, but full of the same sorts of scenery and treasures you'd expect from the most popular areas of Italy. While in Umbria, you can get a full sampling of what the region has to offer by visiting these absolute must-see areas.
Perugia – The capital city of Umbria, Perugia is the biggest city in the region and has become increasingly well-known for its chocolate. The chocolate and hazelnut kisses or "Baci" that comes from the Perugina factory is the basis for one of the largest festivals in the city. In July, you'll find the enormous chocolate festival and one of Europe's largest Jazz festivals as well. Inside Perugia are two major universities, a large cathedral, town hall and a gallery featuring Umbrian art among other historic buildings.
Assisi – The Basilica di San Francesco d'Assisi, a UNESCO World Heritage Site is the main attraction of this town, but there is much else in the city to enjoy. In 1997 an earthquake badly damaged the church, but the damage has been repaired and the basilica has been repaired. On a pilgrimage or not, Assisi abounds with the influence of St. Francis, who is buried in the church. Also in Assisi you'll find more churches, basilicas, two medieval castles and the often overlooked cobbled streets that date back to the medieval periods.
Spoleto – While not a large city, Spoleto is the home to a large arts festival in the summer. Begun in 1958, the Festival dei Due Mondi, or Festival of the Two Worlds lasts three weeks and celebrates music, theater and dance performances. Outside of the festival, Spoleto also is home to structures that date back to the Roman era and other historic churches.
Hill Towns – Just like the more famous Tuscany, Umbria is home to many charming hill towns. Rent a car or take the bus to visit the lovely towns of Orvieto with dramatic views and Etruscan ruins, Gubbio with Roman ruins and medieval center and Montefalco known for a 13th-century town hall. The scenery alone as you journey from one town to the next is astounding. Umbria is a hilly land, but unlike its close neighbor, Tuscany, Umbria has a more rugged feel and slightly craggier hills creating a more dramatic landscape.