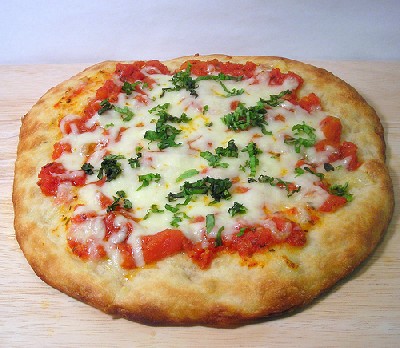 History
The pizza has ancient origins. Someone says pizza was already present in Etruscan times with forms and ingredients obviously very different from today.
It was born as a poor dish that needs simple and easy to find ingredients such as: flour, oil, salt and yeast.
The pizza was created around 1600 in the South of Italy, aiming to making more attractive and tasty the traditional "schiacciata" (flat bread). At the beginning it just was dough for bread baked in wood oven, seasoned with garlic, lard and salt or, to enrich it, with cheese and basil.
The arrival on the tables of the modern pizza, begins with the discovery of the tomatoes! So the era of modern pizza began in Naples and also in America.
Indeed in the XIX century the pizza with tomatoes reaches America thanks to Italians emigrated to New York.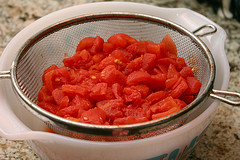 In that same period in Naples the "historic marriage" with mozzarella takes place.
A Neapolitan pizza maker, Raffaele Esposito and his wife, prepared the famous pizza with tomatoes and mozzarella in honor of the Queen Margherita, wife of King Umberto I of Italy.
The pizza maker and his wife prepared 3 pizzas: one with lard and basil, one with tomato and garlic and a pizza with tomato, mozzarella and basil, thinking to the Italian flag.
The Queen Margherita liked it tremendously and for this reason it was named "Pizza Margherita".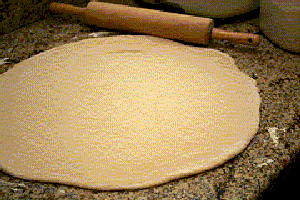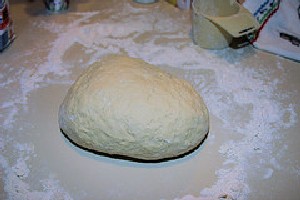 Pizza is the landmark of Naples, born as food for poor people who had to eat and fill their stomach for a whole day and even more.
Recipe 
Ingredients and doses:
For the dough:
flour: 500 grams
yeast
water: 250 ml
salt: 10 grams
Mix all ingredients, working the dough until it becomes homogeneous.
Allow it to leaven for about 2 hours and then roll it out on a baking tray. Let it leaven again at least for half an hour.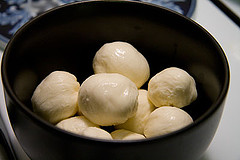 For the seasoning:
chopped tomatoes: 400 grams
Mozzarella: 400 grams
Oregano
Salt
Olive Oil
Preparation:
Add the chopped tomatoes, a pinch of oregano, some basil leaves cut into small pieces, and a clove of minced garlic. Leave an outside edge 1 cm wide with no seasoning. Add a little oil over the whole pizza. Cook in hot oven (preferably wood oven)for 10 minutes at 250°. Then add the chopped mozzarella cheese, and live it in the oven till it melts.
Take it out and serve hot.
For more information click here.