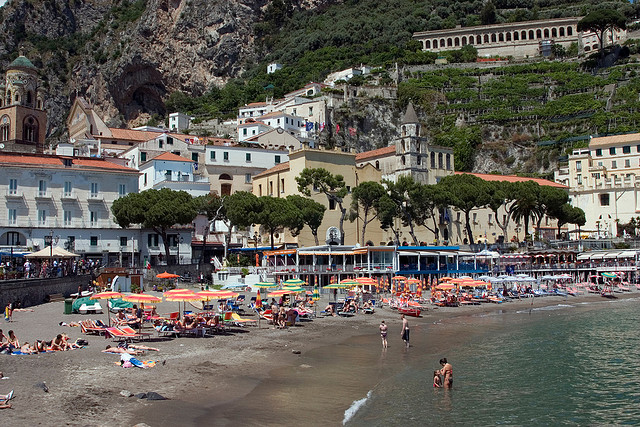 Italy is most popular with tourists in the summer months, and for many travelers, this is simply the best time to visit, especially if you have children in school the rest of the year. While the classic cities may be high on your list of places to visit, to truly experience the magic that Italy can offer, spend some of your summer trip on the beach along the Amalfi Coast – just be ready for the rest of the tourists looking for the same bit of sunny adventure.
Where is the Amalfi Coast?
The Amalfi Coast is a stretch of coastline, complete with hills, cliffs and beaches that stretch from Positano and down to Vietri sul Mare. This portion of the Sorrentine Peninsula is astonishingly beautiful and attracts both tourists and locals to spend time with the sea breezes, the sun and the beautiful sand.
Located near Naples, the Amalfi Coast is easy to visit after a quick tour through the major cities, and the astonishingly views and relaxation you'll experience along the water will help you relax after pushing through crowds in the hot, busy cities.
Enjoying the Amalfi Coast
The Amalfi Coast appears to be put on the Earth for one simple reason – to indulge the senses and allow visitors to relax. When you visit the coast in the summer, you may have a hard time picking your way through the relaxed, tanned bodies that sprawl on the sand. This is a place of comfort and fun – not a hard-living adventure paced out over museums and ruins.
That's not to say there aren't things to do that take a bit more energy than soaking up the sun. The Amalfi Coast is also home to one of the best hikes in Italy. The Path of Gods requires only a bit of curiosity, a water bottle and some sturdy walking shoes. The small towns along the top of the cliffs are home to interesting churches, shops and restaurants. Spend the days hiking or sunbathing and then head into town to experience local cuisines and amusing stores full of true treasures and souvenirs.
Many of the hotels and resorts in these seaside towns along the Amalfi Coast have swimming pools and interesting excursions throughout the countryside as well, making the entire experience relaxing, easy to plan and fun.