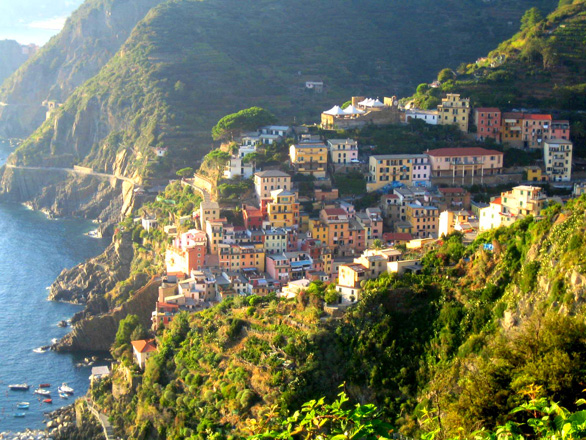 The Cinque Terre are a desire coming true: five picturesque and dream-like villages located on Italy's north-east coast and connected by walking paths and hiking trails. A good way to experience the Cinque Terre is a guided walking tour or on a boat trip. A day trip from Florence or Livorno port, it is really easy to go in Liguria and discover the area.
There are packages that come along for a ready-made tour. They offer a full-day hiking tour for example: this will take you in four of the villages. You can start your excursion in the perched village of Corniglia. The trip heads up toward Volastra where the vines grow on steep terraced slopes: only by monorails you can get there and they are utilised to harvest the grapes. The trip goes downward to Manarola for lunch and then you will reach to Riomaggiore and from here  by boat have a spectacular cruising to Monterosso.
Another way to discover the Cinque Terre is by boat. And this is one of the most romantic ways to experience the Cinque Terre, to tell the truth. Enjoy the villages' sightseeing from the sea at sunset with your partner!!! You can choose to have a boat excursions on a typical Ligurian fishing boat called "gozzo".  Tours usually start in late May and run throughout the summer period or when there is an holiday.
Also Portovenere, a close-by charming port of brightly-colored  buildings, offers a scenic cruise down the coast passing right by all five Cinque Terre famous villages. What to eat while here? Of course a lunch of fresh fish and seafood!!! In the Gulf of Poet, everything tastes better.
The secret is to take the information in advance, now that it is winter and cold, to prepare yourself for a lovely trip inside the marvellous sea of the Cinque Terre! Genoa is also at hand from here, so do not forget to programme a day out to see the ancient majesty of one of the four marine Repubblica!