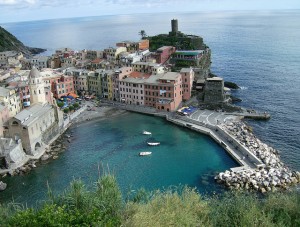 France isn't the only country that sports an impressive Riviera. Italy has a stunning collection of villages and sights along the Mediterranean that wow anyone traveling to the region. The collection of villages built along the hillsides of this region are among the most picturesque in the world, and the friendly people and charming vineyards simple add to the experience.
Cinque Terre
Considered one of the most uncontaminated areas of Italy, the Cinque Terre is a total of about five miles of coastline shared among five small towns and several vineyards. The charm of the area comes from its stacked buildings in beautiful pastel colors as well as the dry stone walls separating the different parts of the vineyards. In a single afternoon you can walk along winding paths in the midst of charming orchards, climb to the top of the cliffs to overlook the sea and then sit down in a very nice restaurant to enjoy some of the local cuisine.
Villages of Cinque Terre
The five villages that make up the homes along this area include Riomaggiore, Corniglia, Manarola, Vernazza, and Monterosso. They appear to be suspended over the sea attached to cliffs with one building appearing to be stacked almost precariously above the next. The combination of buildings and bright colors adds to the carefree feel of the place. Each town has its own personality and feel, and if you were to spend a weekend or a few days in the region, you would have a chance to carefully explore each of the villages as well as complete some of the most impressive hiking in the world.
Hiking the Cinque Terre
The Cinque Terre is a beautiful region known around the world for its excellent hiking as well as its excellent views. For the more rugged backpacker, a hike through the region will help you find the true essence of the Mediterranean. As you hike above the towns, you can start by following carefully trodden paths, and then branch off to find new areas or to sit in a peaceful meadow surrounded by wildflowers and butterflies as you take in the beauty of the astonishing sights below you. The pastel houses, the wild seas and the far reaching distance are all part of the amazing appeal of this area.