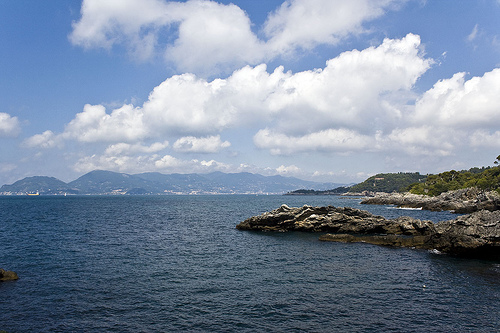 The Gulf of Poets, or Il Golfo dei Poeti, may not be as famous as the five villages that make up the Cinque Terre, but it's just as impressive as and far less crowded than the famed costal region. The Gulf of Poets is located just to the east of the Cinque Terre, and it's always been a popular sort with the creative sort, especially poets. Over the last centuries, many poets have chosen to live in this beautiful region and some have died in the region as well.
The Poets of Il Golfo dei Poeti
Among the many creatives who made a home by this gulf, the most famous are Percy Bysshe Shelley and Lord Byron. The fame of this region extends even earlier however as Dante and Petrach spoke of the beauty of this gulf region as well.
In the case of Shelley, the poet famously lived in the village of San Terenzo, but in an unfortunate bit of bad luck, his boat was hit by a storm while he was returning from Livorno and the poet died in the region as well. There are markers for the poets of the Gulf of Poets not only in Shelley's favorite village, but in the town of Portovenere as well where a grotto is dedicated to Lord Byron
The Beauty of Il Golfo dei Poeti
There are many stunning villages to visit along the gulf, all with lovely buildings reaching up cliffs and the bright blue sea stretching out past idyllic harbors. Among these, Lerici, with its fine port, makes a great starting place for exploring nearby sites including San Terenzo, which is within walking distance. Other cities are within hiking distance for the more adventurous including Fiascherino, Tellaro and Montemarcello.
From the harbor you can take a boat to other nearby cities or towns including Portovenere and the Cinque Terre. This is an excellent way to avoid the touristy hotels of the popular Cinque Terre, but still enjoy visiting the city during the beautiful summer days that stretch out invitingly in this region of Italy.
The boat that serves a as a ferry is not especially large however, and it is not for the faint of heart on a day when the weather is not ideal for travel by water. The small boat is rather symbolic of the quaint, comfortable nature of this area and the draw it has on travelers weary of the more touristy hot spots.