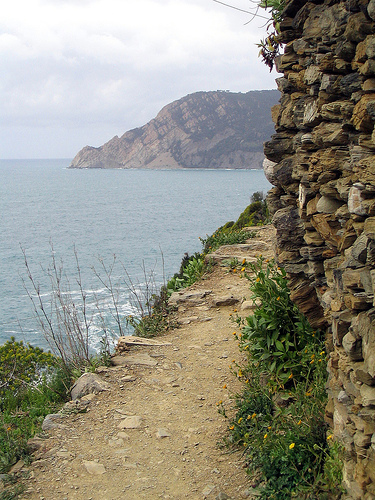 While visiting the coastal area of Cinque Terre, most tourists travel at least part of the way on foot. The coastal footpath that connects the "five lands", Monterosso al Mare, Vernazza, Corniglia, Manarola and Riomaggiore, is an ideal way to experience the beauty of the region and to get out of the car and breathe in fresh air again. Hiking in the Cinque Terre is particularly popular with families with children who need to get out and move from time to time.
Hiking the Coastal Path
The long coastal path has different levels of ruggedness offering more or less challenge depending on preference and ability. The hike from Monterosso to Vernazza and on to Corniglia requires you to be in pretty good shape, but others are more pleasant for everyone – even those who are most comfortable at a gentle stroll. Families with young children or those who would prefer to walk rather than hike would enjoy the trail between Corniglia and Manarola as well as the paved Via dell'Amore between Manarola and Riomaggiore.
Selecting the Right Hike
There is a wide variety of hiking available in Cinque Terre, and no two hikes are the same. A flat 30-minute stroll along the paved Via dell'Amore is an easy hike but the grueling 12 hour trek from Levanto to Portovenere is intense and best reserved for serious outdoorsmen. However, when hiking in the region, be sure to consider the attitude and rapid elevation changes as well. Be sure you're rested and walking with at least one other individual if you're prone to altitude sickness or other related conditions.
Suggested Hikes for Touring the Cinque Terre
If you're serious about hiking in this region, the trip from Monterosso al Mare to Riomaggiore along the coastal pathway or Sentiero Azzurro via Vernazza, Corniglia and Manarola is estimated to take about 4 hours and 30 minutes. This is for an average hiker. If you're experienced it could take less and those walking with children or more casual hikers can take more time. The most challenging element of this hike is the section between Monterosso and Vernazza thanks to 382 stairs at either end of the segment.
The view from the sanctuaries over each town makes the trip well worth it, however. Each town has a footpath leading up to the sanctuary and you can elect to walk between the towns for various intervals as your hike. If you elect the full 12 hour hike across all of the Cinque Terre, you can expect a difficult trek along the high lands but astonishing views from each of the five sanctuaries above the towns.