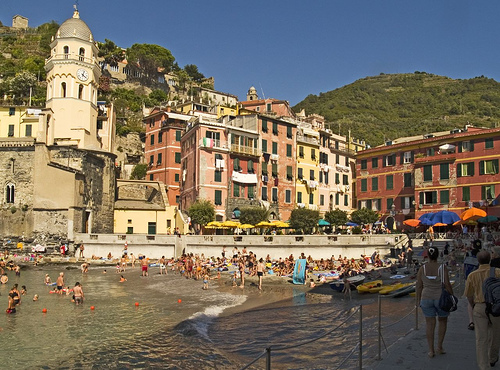 In 2011, bad weather caused serious flooding in the villages of Cinque Terre, the famous five villages found along the coast of Italy. Even into 2012, three of the villages remain closed for tourists as they work to clean up and return the towns to their former glory, but the two remaining villages are more than willing to welcome tourists and there is still plenty of the ambitious tourist to see and do as he moves around this region.
The Available Towns of Cinque Terre
Only two of the towns in this northern part of Italy were affected by the terrible floods. Monterosso and Vernazza are both still closed to outside traffic, but regular hotels and tourist spots are open in the remaining three of the five towns. Make arrangements to use Corniglia, Manarola or Riomaggiore for a base as your explore this region as these three villages were unaffected.
Improvements and repairs are happening quickly in Monterosso following the floods, and the town should be open for tourists and visitors starting in early summer if not before. Vernazza, on the other hand, experienced the worst portion of the flooding and the damage and necessary repairs there are extensive. Many of the restaurants and hotels in the center of the town are damaged and will likely not be open in time for the press of tourists in the summer months.
Fun in Cinque Terre
While some of the towns are closed, the remaining three – possibly four – villages to visit make this an exciting region to stay in over the next year especially. The crowd of tourists is likely to be slightly less than it would be normally as many individuals will be uncertain about the area. This makes it not only less crowded but potentially less expensive as well if retailers offer reduced rates to lure business back into the area.
While at the time of writing four of the five trails that connect the cities remain closed for traffic, there are buses, cars and scooters that are able to travel along the coast roads to make the cities accessible. Travel is currently possible between Riomaggiore and Manarola via dell'Armore – one more reason to consider staying in one of these two cities as you start your exploration of the northern coast of Italy. Other trails for hiking and exploring the hills around the villages are open as well, leaving plenty of options available for exploration.