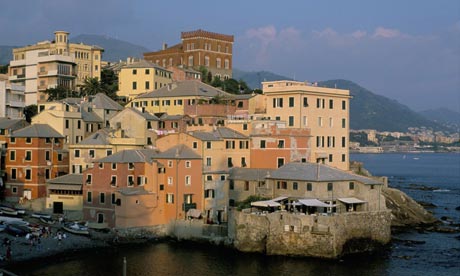 Genoa, located on the northwest coast of Italy in the region of Liguria, really not far from the French area, is a beautiful harbour, and was a 2004 European Culture Capitaland back in time  the site of EXPO 92.  Genoa is a part of the gorgeous Italian Riviera with a lot of lovely villages, ports, and resorts such as Portofino, Rapallo, and Camogli.
This famous Ligurian port saw Columbus setting off to go to America. Genoa offers churches, palaces, and museums, an interesting and large aquarium built for the EXPO 92 and the second largest in Europe. Lovely also the unique port, and the historic centre that is the largest medieval quarter in Europe. From 2006, Genoa's Rolli Palaces are in the list of UNESCO World Heritage Sites. Why?About 80 magnificent Rolli palaces were built in the 16th century, while Genoa was one of Italy's 4 great maritime republics. They are located on Via Garibaldi.

The city and the area  boasts gorgeous food: starting from for its pesto ( made of basil, pine nuts, garlic, and parmigiano cheese) usually served over trenette or trofia pasta cooked with potatoes and green beans, up to some really good seafood dishes such as the fish stew buridda.
Genoa can be reached from Milan, Turin, La Spezia, Pisa, Rome and Nice (France). Ferries departures are for Sicily, Sardinia, Corsica, and Elba. In Genoa there is a small airport, Cristoforo Colombo, and are the centre along the Italian Riveria. Try the "funiculare" to go up to Chiesa di Sant'Anna. Close to the harbour, the carruggi, are narrow alleys to wander around and from Piazza Castello fantastic views of the port and city are at hand, taking the public elevator. The National Gallery in the Palazzo Spinola shows an excellent collection of art, while Palazzo Reale, on Via Balbi, is an amazing mansion turned into a museum with a collection of art and furniture from Genoa's sea exploration period.
As for the festivals, the historic regatta is surely one of Italy's most loved, and is held the first weekend in June every fourth year. Boatmen coming from the ancient maritime republics of Amalfi, Genova, Pisa, and Venezia are in a fierce competition. A jazz festival is held in July.
Fascinating the ritual here: the statue "Christ of the Depths"  kept  underwater at the bay's entrance, is celebrated at the end of July with a mass, the illumination of the reefs and a line of underwater torches to show the path to the statue.