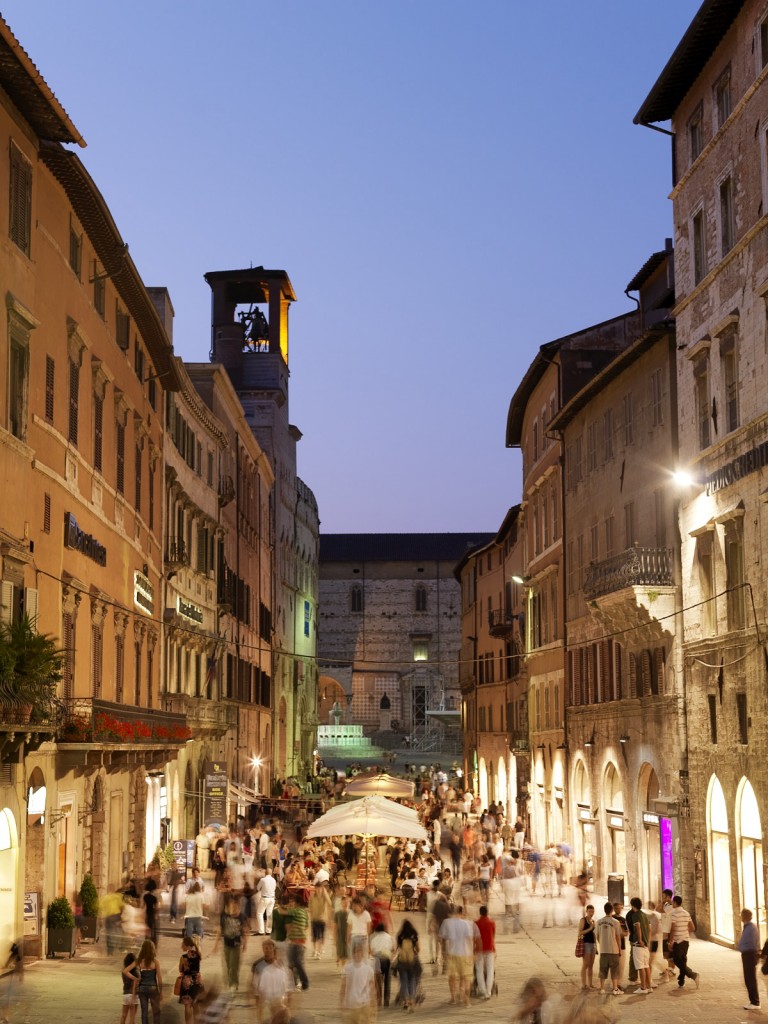 Perugia is a well-preserved medieval walled steep hill town with Universita' per Stranieri, a wonderful place to learn Italian, and it is indeed a very famous Italian language school for foreigners.
Etruscan remains here shows the 3rd century BC Etruscan well, the Etruscan Arch that is one of the city gates, and what the history has spared of  the massive Etruscan wall surrounding once all the town. The Roman wall and Roman city gates are also part of the heritage Perugia boasts as well as the Tempio di Sant'Angelo, a 5h century Roman temple.
Perugia is almost at the exact centre of Italy. The capital of the Umbria region is also reffered to as the "Green Heart of Italy" and if you travel here, you will understand the reason immediately. The city is for sure the best locations to go and visit other lovely and ancient hill towns in Umbria such as Assisi, Spello, and Gubbio. The closest airports to get here are Rome, Pisa, and Florence, and recently Perugia has acquired an airport too.
Perugia is well-known worldwide for chocolate together with its chocolate festival, Eurochocolate, held in mid-October. Chocolate lovers are welcome in town: if you are one of them you need to try the Perugia's Etruscan Chocohotel where there's a restaurant with a pretty unique chocolate menu.The town is also famous for a huge international Jazz Festival, the Umbria Jazz Festival: for two weeks in July Perugia is full of sounds and live concerts. Lovely for classical mucis fans is MusicFestPerugia, a two-weeks classical music performances held inside historic monuments and churches during August.
When you get to Perugia just go wandering off through the narrow streets and along the walls: you will enter Piazza IV Novembre, the core square of Perugia, with its beautiful fountain, the Fontana Maggiore made of pink and white stone, and which is decorated with a magnificent carved panels with the months of the year, astrological signs, Aesop's fables, mythical monsters.  The Piazza is surrounded by the Duomo and the Palazzo dei Priori, where there are some beautiful 13th century frescoes and wooden furniture. here it is hosted theNational Art Gallery of Umbria.
Go then for a stroll along the Corso Vannucci, the main pedestrian street and is lined with elegant shops, bars, and eating places. Do not forget to climb and see Rocca Paolina,  an imponent fortress built by Pope Paul III.  Art exhibitions are held inside, so check the calendar.