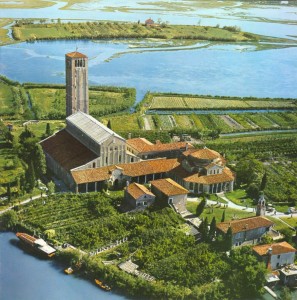 Torcello, one of the most popular islands in the Venice lagoon, is one of the most peaceful place to visit. The agmazin Byzantine mosaics are waiting for you in the seventh century Cathedral of Santa Maria Dell'Assunta. To top the experience, the island is also a beautiful nature reserve, only the walking paths are used here: an oasis in which lose yourself!
In the 5th century Torcello has been built. A town older than Venice then,  a strategic island in ancient history, once hugely populated. What happened then? Malaria came and destroyed human life in the island. The buildings were recycled for building material: what remains are some of the palaces, churches, and monasteries. Let's go around to look for them.
To get there f it is very easy: a short  ride from the island of Burano with the vaporetto (line 9). It runs between the two islands every half hour until 8.30pm. Leaving from Fondamente Nove will cost you 18 euro if you buy a ticket for 12 hours. It takes one day to visit fully Torcello.
Torcello's Cathedral is one of the highlights to visit: the stunning Byzantine mosaics are from the 11th – 13th centuries. Do not miss meditating in front of the astonishing image of The Last Judgement while inside the church.  The main buildings were built in 639: a 11th century bell tower dominates the horizon, and usually you can visit it, but in 2012 it was closed for renovation work. The boat stop less than a 10 minute walk to the cathedral, which is open daily from 10am – 5.30pm. The admission fee? Here is 5 euro while an audio guide is available for 2 euro.
Close to the cathedral you will find the 11th century Church of Santa Fosca (no admission fee here): a five-sided portico forming a Greek cross makes the entrance really peculiar. The small Torcello Museum is pretty close to Santa Fosca Church and it is located in 14th century mansions, once known as the seat of the government. In the courtyard there is a touristic curiosity:  the large stone seat called Attila's Throne. Inside the museum you can admire medieval remains from the island, and  findings from the paleolithic to Roman period. The fee is 3 euro to enter.
Eating out? For lunch or staying overnight check out the historic Locanda Cipriani: here in 1948 that Ernest Hemingway wrote part of Across the River and Through the Trees. Or check Casa d'Artista Lucio Andrich, a lovely b&b. On the island we can advise for lunch or dinner Osteria al Ponte del Diavolo, Ristorante Villa '600, in a building dating from the 15th century and Ristorante al Trono di Attila. Buon appetito in Torcello!