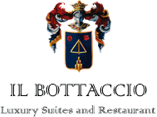 For those crossing Italy as the end of year draws closer, preparations for festivities are under way. The unpredictable weather, make travels this time of year more exciting and adventurous. The heat of the summer months is a distant memory, the moody winds of today driving the sea up onto the shore make us feel comfortable in our winter gear …
Tuscany has something special and unique to share with visitors all year round – this new years eve party is just what you may be seeking to bid 2012 a fare-well and welcome 2013.
Roaring 1920s New Years Eve Event
Il Bottaccio in Versilia is a 17th century water-powered olive mill transformed into an exclusive 5 star luxury hotel, a monumental task for an outstanding achievement.
New year's eve in Forte dei Marmi at Il Bottaccio will be a different even this year, a theme party where Guest are invited to dress in accordance with the 1920s dress and makeup code: the evening will be animated by Charleston Dancers and the live music of the Dixieland Band.
To make the evening even more special, interesting and exciting, prizes will be awarded to Guests for the best costume and makeup.
The new year will be welcomed with Fireworks on the hotel property.
The new year's eve party Menu:
Bottaccio's Amuse Bouche
Crispy red Mullet with Wild Rice in Basil and Pine nut Sauce
Fresh Pasta stuffed with Lobster in Crabmeat Soup
Gilthead with violet Potatoes and Foie Gras
Venison with Rasberries and Balsamic Vinegar Pumpkin puree with red lentils
Green Tea and Date Sorbet
Chocolate Mille-feuille with passion fruit and fresh Custard cream
Cost per participant: € 150,00 per person – wines and spirits a la carte

Further information on New year's eve in Forte dei Marmi

Il Bottaccio, 5 star Luxury Hotel in Tuscany, Forte dei Marmi

Via Bottaccio, 1 – 54038 Montignoso – MS – (Tuscany)
 Tel: +39 0585340031 +39 0585821353 Fax: +39 0585340103
 E-mail: bottaccio@bottaccio.it
http://www.bottaccio.it/