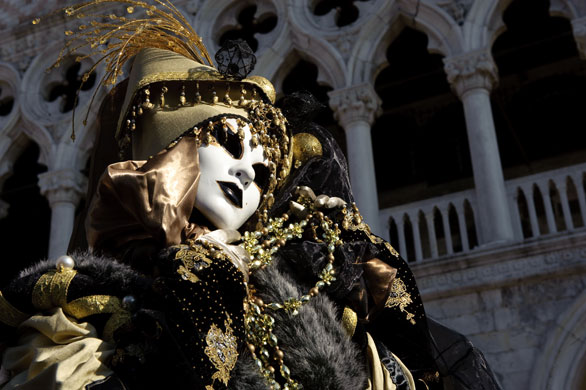 The most famous place where Italian people and thousand of tourists wear elaborate masks while having fun? Venice of course during winter! All over town there's lots to see and  experience during the Carnevale!!!
Very easy (and lots of fun) is to buy a mask once you're in Venice. The main events?
You will find around Piazza San Marco, but you need to walk around a lot. Here in Venice every single Sestiere held some events, concerts, masquerade ball, ect. so be sure to wander and do not stop too much.
Remember that the traditional fireworks show will be in Piazza San Marco and it is the climax of the Carnevale.
Most luxury hotels are proud to present funny and mysterious  masked balls, a bit smaller than the public events but not less glamourous. Attendance at a ball and a costume, altogheter can reach the fab amount of about 500 euro.
There's also a lot going on before the actual Carnevale dates, including costumed characters. Corresponding with Shrove Tuesday forty days before Easter, Carnevale 2013 will start on the 31st of January up to the 12th of February
Carnevale weather may be cold or rainy, so don't drop the umbrella at the airport!
Venice is world-famous to celebrate the approaching spring with fantastic taste through its masked extravaganza: the festivities will start on the Friday afternoon with La Festa delle Marie, a procession through the city. The official opening is on Saturday, with a masked procession from Piazza San Marco around 4pm. The next day will be full of jousts and the following Friday evening the Gran Ballo delle Maschere (Grand Masked Ball), or Doge's Ball, is on! Calcio storico (a medieval football in period costume) matches are played on Piazza San Marco. On the Sunday, a beautiful procession of decorated boats and gondolas carrying masked passengers can be seen  down the Grand Canal. What are you waiting for?