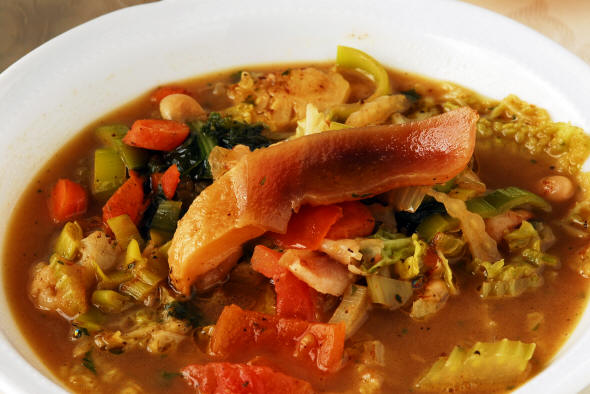 Nothing is tasty as the Italian food: Tuscany slow food philosophy has become really trendy not only in Italy but it is spreading all around the world. Also refined chefs today value the importance of  farro, coming originally from the Garfagnana, a staple for millennia and also the main ingredient for a gourgeous soup named after this ancient and tasty grain. Let's start discovering where and what to eat delicious food while in Tuscany for a visit!!!
Mains
Tuscany has a simple but really tasty tradition called "cucina povera" (peasants' cousine) where bread is obviously the main character: salt-free pane toscano can be grilled, rubbed with garlic and covered with oil as features in panunto. Rather, you can spread your grilled slice with chicken liver paté or chopped tomatoes. The result is called crostini. Bread goes into tasty soups called ribollita, pappa al pomodoro or simply zuppa di pane. And when the bread is stale? No worries, we can recycle it into a fantastic dish called panzanella: it will be put in water to soften and then crumbled into a delicious salad made of tomatoes, onion and basil. Very popular is also a flatbread called schiacciata, with rosemary or with grapes. Seafood is all over along the coast: the famous Livorno's cacciucco is a spicy famous soup. If soups are always present in the Tuscany's recipes constellation, we need to mention also homemade pasta. Tagliatelle and pappardelle are served with hare or duck sauce. Fantastic the pici, a robust kind of spaghetti served with the red Chianti, Brunello di Montalcino and Vino Nobile di Montepulciano. Those noble wines come along roast meats (rabbit, pigeon, duck, free-range chicken, thrush, pheasant and guinea hen). Pork is very spread: you can eat delicious grilled ribs (rostinciana), roast loin (arista), spit-roasted livers wrapped in bay leaves (fegatelli) or porchetta. Firenze is proud of its bistecca alla fiorentina, a hefty portion of Chianina beef.
Chacuterie and cheese
Pork and wild boar are available in form of sausages, prosciutto and salame. Very famous and appreciate is la finocchiona, a kind of salami with wild fennel seeds.  To taste also the mortadella and the prosciutto cotto toscano. As regarding cheese, Pecorino Toscano DOP is most savoury one. The magic of bread in all its fragrance and the charm of pizza in every flavour accompany the chacuterie and cheeses.
Delicious morsels of fried dough accompany snacks and appetizers too as old tradition rules: the simplicity of the coccoli, ficattole and donzelle, fragments of bread dough fried in hot oil, deliciously crunchy outside and soft inside pleasantly, will make you fall in love with an appealing taste. Typical of the oldest and genuine Florentine tradition and surrounding areas, the coccoli were among the most popular street food in the city, sold in the characteristic cones of yellow paper. They were offered still warm in the mid-morning or afternoon to the Florentines and visitors to the city who were tasty snacks to be enjoyed along the way. Today this custom has almost disappeared, but these typical delicacies can still be found in some Florentine restaurants and taverns.The coccoli appear as small golden balls and you can taste with the ham cut into thin slices, the Tuscan salami, cheeses such as pecorino or soft cheese, usually accompanied with a light red wine.
In the northern part of Tuscany this fried dough is called ficattola. The name comes from the fact that originally the dough was enriched with figs or other ingredients, but today the ficattola is simple bread dough fried and salted. The dough, pulled the rolling pin to a thickness of about 1.5 cm, is cut in a diamond shape and fried.The ficattole can be sweet, sprinkled with sugar or salt, but always served hot. More common are those salted and accompaning the salami in Tuscany or that may accompany soft cheeses such as soft cheese, anchovies and pickles. Less common are those sugary, served as desserts.
The donzelle are in long sticks even 30 cm, triangular or balls. They are fried in huge cauldrons of boiling oil and thus ensuring even browning and a good swell, sprinkled with salt or sugar according to taste. They are a great appetizer and are also filled with cheese. Pairing with a local red wine make a plate of fried donzelle really tasty.
Tuscany's sweet bakery
Chestnuts (especially the marrone type) growing in the Mugello, can be roasted or used in castagnaccio, a flat cake with pine nuts and rosemary, or in necci,  crepes-like sweet dis . Prato's cantucci bring all the almonds' flavor while the softy panforte of Siena is traditional and tasty. This chewy fruit and nut cake that can be found all over Tuscany. Amazing is the Florence's zuccotto, a dome-shaped sponge cake flavoured with chocolate, nuts and liqueurs.
Truffle
This tuber has been a great success since Roman times. In the seventeenth century treaties gastronomy even speak of the invigorating power of the truffle. Over the centuries it was always boasted its aphrodisiac qualities, until you get to the last years of the twentieth century in which it was assumed that, as in the animal world, even for mankind this food has an exciting effect. San Miniato is one of the most productive and precious truffle areas in Europe.The Valdegola triangle is geographical truffle-producing area which goes towards the inland countryside of Pisa. The white truffle, with its pale colour and peculiar taste and smell, grows in the San Miniato Hills.
The truffle collection is a very selective one, as the production is limited to the three months (October, November and December), celebrated by the Mostra Mercato Nazionale del Tartufo Bianco di San Miniato (The San Miniato National White Truffle Market),  during the last three weeks of November.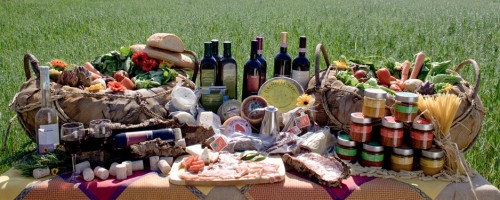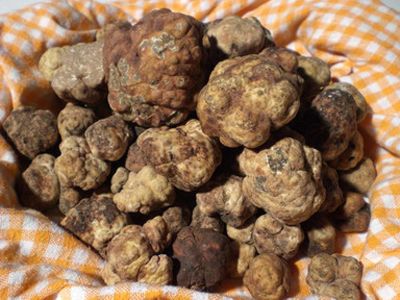 If you are interested in Tuscan cooking classes and wine & food tours, visit the website www.ariannandfriends.com