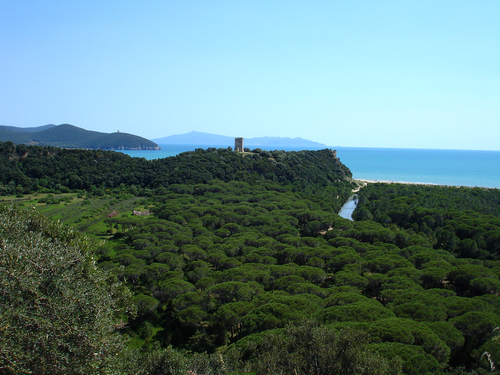 The wonderful area of  Tuscany  located between Monti dell'Uccellina, the pines of Marina di Alberese, the river Ombrone and the Trappola marshes is a precious area made of different ecosystems, the Natural Park of Maremma (Parco Naturale della Maremma). This  area ranges for 100km sq and it has been protected since 1975. Let's discover it!
The flat lands now occupied by large farms  are  the Trappola marshes. You will find yourself into mirrors of water, called "chiari" or "bozzi": here the Maremmani cows live in the wild all year round. The inland ponds are "home" for a large number of migratory birds in the winter. To discover the beauty of this area, you can follow a number of different routes and the guide of the Park Rangers.
To the left of  the river Ombrone a fantastic and compact set of dunes are covered  by pines, which protects the inland from the salty winds and stretches into a real wood, separated from the sea. Artificial canals run for the entire area, some of which date back to the very first reclaiming of land attempt  made by the Lorena noble family in the XVIII century.
The park is the reign of incredible and ancient wild animals: you can even see eating around boar, deer, badgers, porcupines, foxes, wild cats and beech martens.
The Uccellina mountains (Monti dell'Uccellina) are the spectacular peaks and the current bones of the central and southern part of the Park. Now and then there are towers and religious buildings, such as the abbey of San Rabano, today almost completely in ruin, the beautiful towers of Castelmarino, Collelungo, Cala di Forno and the Bella Marsilia. The highest mountain is Poggio Lecci (417 metres), and all the sides are almost completely covered by thick vegetation, while the lower part has been used for grazing and olive groves.
A fantastic adventure is waiting you and your family: the area also offers many different opportunities to spend the night. Camping sites, agriturismo, farm houses and little villas will be here to wait for you both close to the beaches and close to the park.