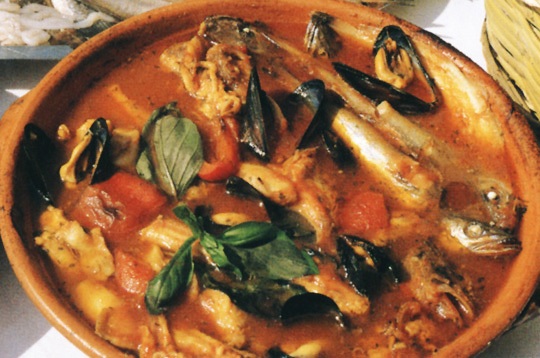 The cuisine of Abruzzo can be defined  as a set of different tastes, which is based around some typical main dishes. A land of great agricultural and pastoral tradition, Abruzzo offers to those who visit it a wide range of aromas and flavours. Forests, pastures and fertile hills allow the skilful hand of man to make food and drink truly unforgettable and pretty tasty.
Pasta
For the first courses, among the  macaroni dishes the Chitarra-styled ones are excellent. The maccheroni alla chitarra features a mixture of eggs and whole wheat flour pulled into sheets and cut using the "guitar", a traditional tool consisting of a beech frame having at the top chords, steel tight and parallel, on which to press the sheets with a rolling pin.
You create so characteristic maccheroni alla chitarra with their square profile and fantastic with many different sauces. To taste also the cannelloni all'abruzzese, slices of dough rolled and stuffed with mixed meat (chicken, beef, pork). For the toppings very nice are the mutton sauce,  sausage sauce,  goose sauce. These are flanked by "sagnette e fasul", a bean soup with rustic noodles  made of water and flour, served with soupy sauce of fresh tomato, garlic, olive oil and the hot chili peppers.
The remarkable "dumplings carats" of L'Aquila, topped with bacon, eggs and cheese. From Teramo you will like to taste the "scrippelle", "crepes rusticane" served "m'busse" (wet, in stock) or used to build sumptuous pies, topped with a little sauce, and stuffed with chicken liver, meatballs butter, boiled eggs and fresh cheese, according an old recipe of vegetables that the custom is to be consumed at the beginning of May. They are worthy crown ravioli stuffed with ricotta cheese with sugar and cinnamon, topped with a thick sauce of pork; the "pastuccia" stew with polenta with sausage, egg and grated cheese.
Meat

To try are the mountain lamb, large game dishes features the boar and somewhat more rustic farm animals like rabbits and chickens in a pan or in the oven with vegetables vegetables, herbs. You can find a more sophisticated dish, such as aspic or turkey a la canzanese in Teramo area, cold dishes with gelatine derived from the same food, tastes very "high", along with clean and smooth.
But a rustic and tasty dish staple is the prince of the table here; we are talking of the roast lamb which has savoury variations in the "arrosticini", thin wooden skewers with pieces of mutton cooked on the wood; the lamb stew is also delicious, with a rich parade of mountain herbs in copper cauldron of the shepherds. Finally, the lamb can be combine with cheese and egg, in a rustic savoury fricassee.
Fish
Sea fish varies in the Adriatic and has found its success in the three canonical "soups" dishes (brodetto), with three different main towns such as Giulianova, Pescara and Vasto. The wonderful sauce, cooked in a crock with fresh tomatoes and various herbs, rich in character, with the rise of the ultimate hot chili, emerging here in place of pepper.
Bakery
Delicious are the bakery specialities such as the rustic pizzas from Easter  time (pizza pasqualina, a cake with rustic cheese and pepper in Teramo area), the fiadoni from Chieti, which are dough egg / cheese very swollen pastries, baked in a thin sheet of dough tied in a handkerchief, and amazing rustic tarts, often embellishing from the package of sweet pastry, filled with  eggs, sausages, cheeses, cottage cheese, vegetables, herbs and spices.
Cured meat and cheese
And what about cured meats and cheeses in Abruzzo? Liver sausages with garlic and spicy mountain herbs are fantastic or the wonderful ventricina of Alto Vasto, a large pieces of fat and lean meat from the shoulder and ham, pressed and matured with sweet pepper in dust and hints of fennel and red pepper, mountain air, and dried in the stomach of the pig itself? Or the pecorino abruzzese and mozzarella from the farms that dot the valleys and hills around  Atri and Rivisondoli?
Sweets and pastries

Desserts from Abruzzo are famous in the world such as the confetti of Sulmona by William Di Carlo or Pelino Confetti, the soft chocolate nougat Nurzia Aquila,  the Parrozzo by the confectionery company Luigi D'Amico of Pescara, called Parrozzo D'Annunzio, from mixing superb almonds which are coarsely pounded.
The traditional sweets are always delicious, too: the ferratelle, meaning anise pods cooked in a red-hot tongs wide-grooved jaws, or the cicerchiata, meaning balls of fried dough with honey baked donut related to the crunchy kind of nougat with almonds and caramelized sugar, flavored with lemon.  Amazing are the mostaccioli, hearty cookies sweetened with cooked grape must,  and then the pepatelli Teramo, biscuits bran, almonds and honey well peppered. Yet, from the heavy Guardiagrele macaroons we go to the "sise of the nuns" (literally, nuns' tits), three-cornered hats of sponge cake with cream and to the extremely delicious bocconotti of Lanciano with the filling made of almonds and chocolate.
Wines
A kitchen so varied and requires appropriate wines as diverse as the hilly Abruzzo shall produce. Three great wines, red, rosé and white: Montepulciano d'Abruzzo is a red wine of full body, very strong.
Cerasuolo d'Abruzzo, claret cherry red (not pink) obtained by skimming the hair of Montepulciano during fermentation. At room temperature, it makes the best of a little fresh pasta dishes and white meats; if served cold, you celebrates wonderful nuptials with red seafood broth.
Trebbiano d'Abruzzo is a white dry and balanced wine, which goes from acidic to very fruity, to be served especially with fish (entrees, roasts, fries and soups white), but it's also great with pasta in broth.
And not only that. In Teramo small quantities and excellent quality wine like Montonico Bisenti and Cermignano are produced, and also the Golden Sun Controguerra and Sammarco of Cologne.
The distillates produced with herbs of the mountains of Abruzzo are famous too, starting with the well-known and strong Centerbe (72 degrees) manufactured by TORO from Tocco Casauria, which is flanked by the gentian, walnut liqueur and cassis made from cherries. Then there is the Amaretto di San Valentino rich in culture, history, tradition, and passion as all the dishes of Abruzzo!!!