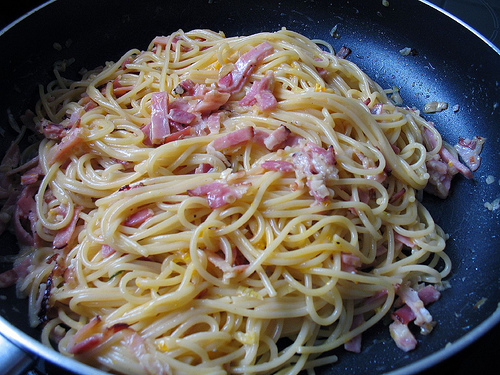 A simple enough dish, provided you have the right ingredients to meet a few basic rules.
First: the egg must not cook. So it is definitely wrong to put the pasta with the sauce on the fire again before serving. It is enough the heat of the pasta and of the bacon to cool the egg. To make it more creamy, you can use steam or boiling water, but never use the flame.
Second: the pasta: the maximum would be draining it well WITHOUT using the colander, so as to keep it soaked with its cooking water.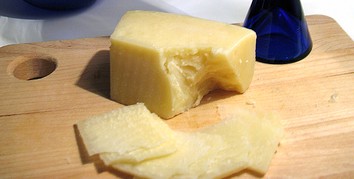 Third: the bacon (guanciale) must not become too crunchy. At least, not too soon. The fire must be pretty sweet: it should only warm slowly, so to melt as much as possible.
Finally: the pepper has to be abundant, as if it rains. The name of this dish comes from the black of this spice that appears as dirty coal.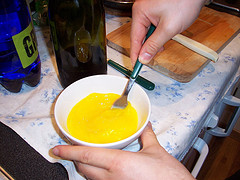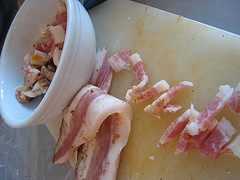 INGREDIENTS (for 4 people)
400 grams of spaghetti
400 grams of bacon (better Italian guanciale)
a bit of extra virgin olive oil
1/2 whole eggs and 1/2 yolks
pecorino romano cheese
plenty of ground black pepper.
PROCEDURE
Cut the bacon into cubes of 1 cm per side. Break the eggs into the bowl that will contain the pasta. Add the pecorino and the grated black pepper, beating with a fork. Place the bowl over the pot with the boiling water for half a minute, continuing to beat in order to make the sauce more creamy.
Put the bacon in a frying pan, heating it slowly and letting it melt in.
In the meantime cook the pasta and drain it with the care so not to drain completely and retaining some of its cooking water.
Then put in bowl, adding the egg sauce and mix quickly.
Add the bacon with its sauce and mix and – if necessary – add some of the kept aside cooking water. If you like you can add more grated pecorino cheese before serving.