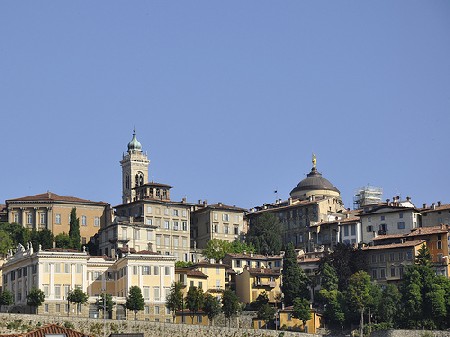 Bergamo is a city located in Lombardy and is situated 50 km far from Milano and 50 km far from Brescia. It consists of 2 different and almost indeopendent parts: the lower one is a modern city, full of shops and monuments, surrounded by charming villages. The "Città Alta" (Upper part) is ancient and fascinating. For those who arrive by car it is advisable to park in a guarded park the Lower Town and use public transportation, bus or cable car. In the Upper Town parking is limited and mainly used by residents. Furthermore, in some periods it is closed to vehicular traffic for non-residents.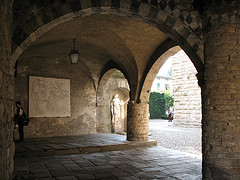 The Upper town has a very old historical center included in a perimeter of Venetian walls and sourrounded by the hills just outside of them. The main entrance for vehicles is Porta S. Agostino. Turning right it is possible to park on the Via Fara and then walking along a path uphill about 500 meters visitors can reach the perimeter of the Upper town. Another parking is in Piazza del Mercato in the heart of the Upper Town. Those who use public transportation instead can choose the funicular or buses.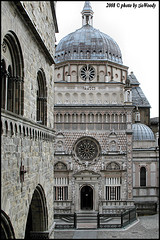 The historical center is certainly a place to be visited paying attention to any little and meaningful detail. Starting from one end, it is possible to walk through the whole Upper Town.
Walk along the "Corsarola" (via Colleoni Piazza Vecchia, via Gombito).
Look at the shops along the way and stop in Piazza Vecchia, also visiting the Basilica of Santa Maria Maggiore (1137, the Cathedral dedicated to St. Alexander and the Chapel where lie the remains of the great Bartolomeo Colleoni.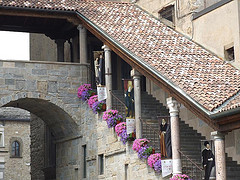 You can then go on foot on the Civic Tower, better known as the Campanone, for a look to the landscape from above. When there are exhibitions the Palazzo della Ragione with its trusses is open to visitors. From the city center the Venetian walls(1400) can be reached via small ladders or alleys.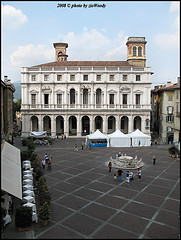 The walls encircle Bergamo and offer a breathtaking sight of the plain.
Of sure interest there are the fortress of the Rocca with its park of Remembrance, the historical museum, the Cittadella with the Natural Science Museum and the Archaeological Museum.
Bergamo can be reached: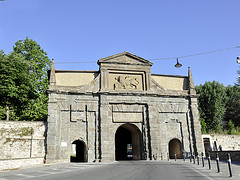 by train from Milan or Brescia almost every hour;
by car: motorway A4 Milan-Venice exit Bergamo, 2km from the center;
by bus: bus service from Milan every 30 minutes;
by plane: Airport Bergamo Orio al Serio now with low cost flights from the major European cities.
For accommodation, click here.