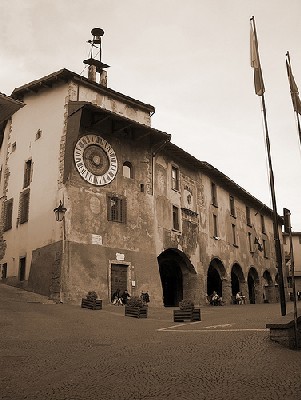 There are several cycling routes going through the province of Bergamo. All of them  enable bickers to reach small villages with ancient castles or town walls.
These spots cannot be easily found and this kind of trip offer fascinating views and environments difficult to forget.
Among the beauties of this area there is Clusone, a peaceful town boasting an important artistic and architectural heritage. The larger monuments are found in the town centre although important examples of local culture can also be seen in the smaller streets and these are often quite surprising.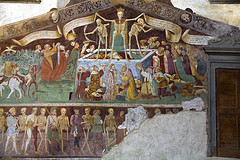 An example of this is the XV century complex of Paradiso Church opening onto the piazza with the same name with a sombre bell-shaped façade.
In the centre there is the elegant residence of the Carrara Spinelli and a short  distance away there is an interesting Art and Time Museum, housed in the XVII century Palazzo Marinoni Barca.
Continuing onwards there is the sweet church of Saint Anne dated 1487, decorated with votive frescoes.
In the Piazza dell'Orologio (Clock Piazza) there is a lovely collection of historical buildings that  revolve around the serious façade of the Palazzo Comunale (Town hall). On the side of the palazzo there is the Clock Tower, an extraordinarily elaborate mechanism created in 1583 by the Clusonese Pietro Fanzago.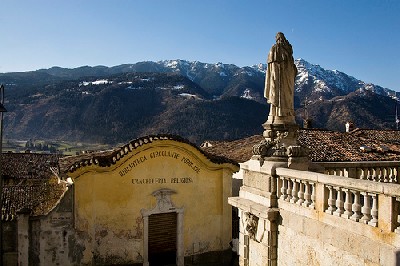 The Basilica of Santa Maria Assunta is found in the centre of the town. This is another important project by Giovan Battista Quadrio built in 1688.
The real treasure of the church is found in the presbytery, where one can see the valued high altar, sculpted by Andrea Fantoni, and the Altarpiece  of the Assumption, a masterpiece painted by Sebastiano Ricci, well known Venetian painter.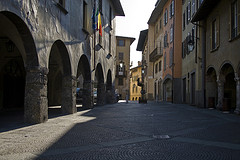 Opposite the church there is one of Clusone's most famous monuments, the XV century Oratorio Disciplini. The façade is decorated with an awe-inspiring series of frescoes, which illustrate, in characteristic medieval tradition, the theme of Death.
After the basilica, there is Palazzo Fogaccia, an imposing nobleman's villa from the late XVII century that juxtaposes the simplicity of the external appearance to the sumptousness of the internal halls, decorated with eighteenth century frescoes.
The last thing that remains to be seen is the small Church of San Defendente (1471) decorated with votive frescoes.