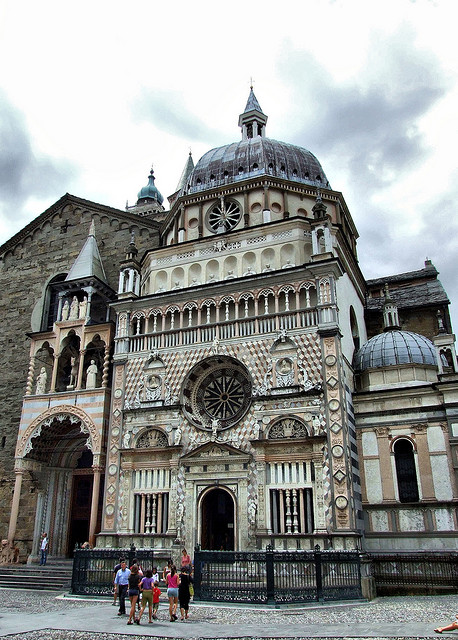 Among the most interesting places in the Lombardy region of Italy, the Upper City, or La Citta Alta, is unique. The bustling town of Bergamo is located in the site of the ancient area, but within Bergamo is the unique historic area surrounding by Venetian walls dating back to the 17th century. The Upper City is ideally located in the heart of Bergamo, and is easily accessible with reasonably ample parking as well.
The Sites in the Upper City
Among the many sites you'll see in the history area, you'll find any number of impressive ancient buildings and piazzas. The most impressive of these include the Cittadella, which dates back to the mid 14th century, and the old square, Piazza Vecchia. The original political seat of the city was in the Palazzo della Ragione. Today the building has been transformed from the political home of the 12th century to a museum housing a selection of paintings and a beautiful atrium.
Looking over the rest of the sites of the city, the Basilica di Santa Maria Maggiore stands with an impressive façade. Originally started in 1137, the cathedral wasn't complete until the 15th century. The location of the cathedral was once home to other religious buildings dating back to the 7th century. Over the centuries the building has been remodeled more than a few times, but artifacts of each time period remain including frescoes, a large crucifix and even tombs. Attached to Santa Maria Maggiore is another religious masterpiece. The Cappella Colleoni is a small chapel that is annexed to the larger church. It is considered an excellent example of Renaissance architecture and also contains the tomb of Bartolomeo Colleoni.
Exploring the Upper City
You can easily get lost for the afternoon or even a few days poking around in the Upper City. With castles, ancient walls and artifacts from many centuries past, La Citta Alta is a wonderful place to visit, but you should expect prices to be a bit higher than they might in other areas. The Upper City is a very exclusive area to live and the local restaurants and shops tend to reflect this standard of living as well. It is possible to find more affordable, comfortable meals and accommodations by staying just outside of the city's center or by planning a day trip to Bergamo from nearby towns.