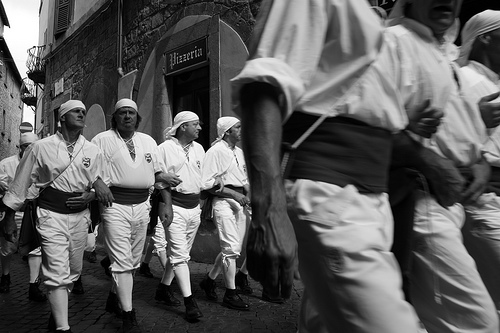 If you're planning a trip to Italy in the glorious month of September, you'll be able to take part or at least observe some of the most interesting festivals in the country.
The Feast of San Gennaro in Naples
On September 19, the people of Naples will gather at the city's cathedral to pay homage to the city's saint, Januarius. It is said that Januarius was beheaded in the year 305. One of his faithful followers gathered up a vial of his blood following his death. Three times a year, and most importantly in September, the vial is brought out of hiding and shown to the public.
On this day in September, the vial is inspected to see if the blood is in a liquid state. If the blood appears to be liquid, 21 cannon shots are fired and the public knows it will be a good year. If the blood remains congealed, the year is expected to be dismal.
Napoleon Festival in Sarzana
The week of September 24-27, the town of Sarzana in Liguria will be holding its annual festival honoring Napoleon. Granted the powerful general was French, but years ago the town of Sarzana claimed to be the place where his family originated. The festival includes reenactments of period warfare. Uniformed soldiers race through the streets and fire weapons on command. There is also an antique fair and period food selections as well.
La Macchina di Santa Rosa
In the early days of September, the charming town of Viterbo in Latium will celebrate its patron saint, Santa Rosa. In the 13th century, Rosa was a young woman living in the town. She led the fight against a Northern intruder and lost her life at the age of seventeen. She was later sanctified and has been honored annually for 700 years.
Every year on September 2, a parade of elegantly costumed citizens winds through the town. The following day at noon, the town's strongest men gather at Town Hall to meet the mayor. Then the 170 men pay a visit to each of the seven churches in town. Finally, the group goes to Capuchin convent, where their true task waits. The 170 men shoulder a 5-ton, 90 foot tower and statue lit by candlelight. The group travels though the town with the tower upon their shoulders. All electric lights are extinguished and only the glow of the tower illuminates the town as people speak and pray reverently.