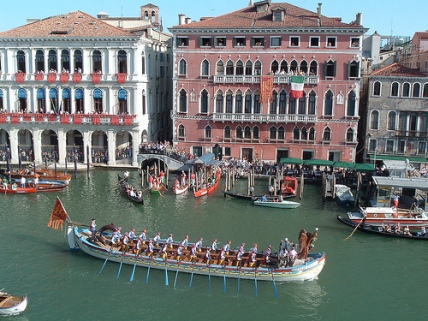 The link between Venice and the sea is an indissoluble bond that can never be dissolved. To understand how important it is, just think of the many events that celebrate this relationship. First of all more than 120 races are held in the lagoon each year, from April to September. One of the most fascinating aspect is that, for the inhabitants of the islands of the lagoon, the race is an event containing in itself the very essence of their being, combining sport, tradition and identity.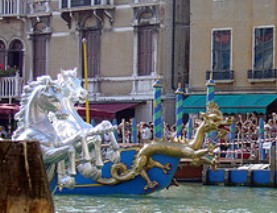 There are many races that arise spontaneously, as a proof of this sport is an integral part of the inhabitants of the area, while the most important, about 11, are organized and managed by the Municipality in cooperation with the Associazioni Remiere. Each race has its own characteristics.
The main one is the famous Historical Regatta which takes place the first Sunday of September, in the characteristic style called "rowing in the Venetian Style".
The Historical Regatta takes place directly on the waters of the Canal Grande and it is one of the most spectacular, picturesque and moving events of Venetian life, capable of both charming the tourists and exciting the locals.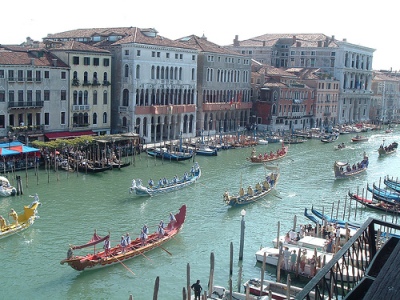 A historical parade of boats of the XVI Century, led by the characteristic Bucintoro (the boat representing the Serenissima) commemorates the welcome given in 1489 to Caterina Cornaro, wife of the King of Cyprus, which has renounced the throne in favor of Venice.
After the parade, it takes place the competition itself, in which viewers participate passionately with shouts of encouragement addressed to their favourites.
Although the first information on the race go back to the second half of the XIII century, it is likely that this spectacular race was already a usual popular competition, because Venice was a city where training men at rowing was a matter of concern.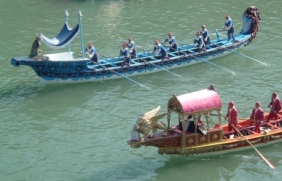 Crowded along the banks, or housed in the gallery or in floating boats moored along the channel, viewers follow the races, making a passionate fan, while the multicolored boats parade quickly.
There are several races that take place under the Historical Regatta, the race of champions on Gondolini, the race on caorline, the race of women on mascarete, the race of young people in pupparini (they are all different kind of boats).
The next Historical Regatta will take place September 6, 2009.
For more information about facilities in Venice, please click here.