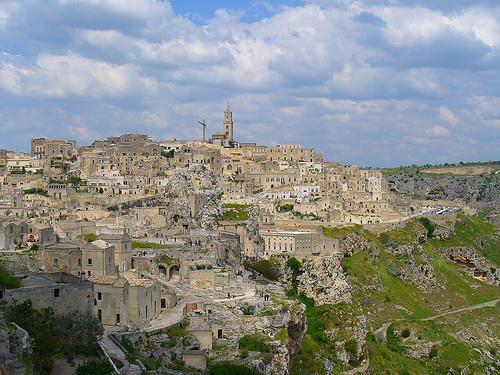 Unlike the more traveled regions of Italy, Basilicata is best reserved for seasoned travelers. This is a region found in the "calve" of Italy, and the locals here are not especially accustomed to tourists, so you won't find any tour buses here. You might not find more than one restaurant per town or a soft bed, either, but there are certainly sights to be seen in this beautiful Italian region.
The 19-Mile Coast
When you visit Basilicata, you must absolutely visit the 19-mile coast. It is along this beautiful stretch of coastline that you'll find Herecleia and Metapontum, two illustrious centers of Magna Graecia. The ruins of these ancient cities are breathtaking, and those with vision can easily see how wonderful the towns once were in their prime.
Museo Nazionale della Sirtide
It is believed that Greeks began entering this region of Italy in the 7th century BC, but there is no sign of their original outposts today. What does remain are artifacts from Sybaris, Poseidonia (now known as Paestum), Crotone and eventually, Naples – all formed by the same entering Greek farmers and merchants. When you visit the Museo Nazionale della Sirtide, you'll be able to see the relics and trace back the history of these independent and proud people.
Herecleia and Metaponto
Just behind the museum you can visit the excavation site of Herecleia. Herecleia was founded in the 5th century BC,  but you can visit a town possibly three centuries older just down the road – Metaponto. Metaponto stretches out over fields the remains are so substantial. Wildflowers grow beside marble columns and ancient ruins.
Five rivers empty into the region making it a prosperous place to farm, and history shows this as well with no fewer than 700 distinct properties within the region of Metaponto. Within the region is the Antiquarian and what many consider to be the most impressive site of the area – the 6th century BC Tavole Palatine temple.

Other Ancient Ruins in Basilicata
There are ruins in many area of Basilicata. While Hereclecia and Metaponto might be two of the most famous, you can find ancient, un-embellished murals in ancient Grumentum and in Molise you can visit the ruins of ancient Saepinum and Saipins. Finally, in Venosa you can view the remains of the poet Homer's birthplace as well as see catacombs, the Imperial Roman settlement and other testaments to ancient life.