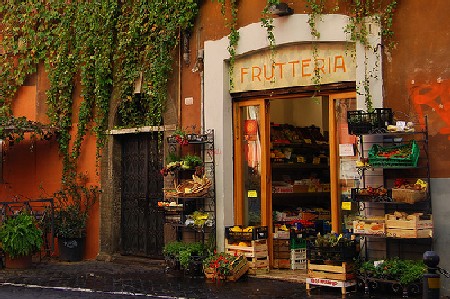 If, after spending a full day between the queues and the crowds of the Colosseum, the Fori Imperiali and the Piazza San Pietro, you want to relax, to taste the typical Roman cuisine, to stroll on quiet streets or to spend a pleasant evening with friends: get a ride in Trastevere.
Trastevere, easily reachable with the tram line 8 (stop: Station Trastevere), is just a few steps from the Tiber river and is one of the few districts of medieval features in Rome.
Although this district is not anymore unknown to tourists, so that some restaurants have had to write their menus in English, it has managed to maintain its identity: the short and winding streets, most pedestrian only, offer attractions to tourists and visitors of all ages.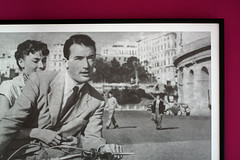 During the day, especially in the afternoon, it is populated by small markets, craft and clothes shops, restaurants, bars and take away pizzerias, among which stand out, kebab and ethnic restaurants, mostly Asian.
But there are autochthonous confectioneries, bakeries and restaurants, offering the traditional cuisine at reasonable prices.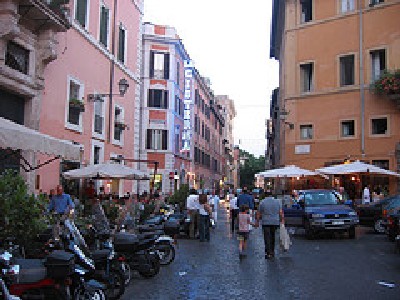 For young people, but not only, at night the streets come alive in pubs and clubs for all tastes, including private clubs, lounge bars and discos.
But the real attraction for the young ones is the cocktail ritual: Roman youth and foreigner students, meet on the streets and from 6 p.m. onwards crowd the many premises.
One in all: "Freni e Frizioni " located a few steps from Piazza Trilussa, where you can order for € 5 a drink of any kind. Included in the price there are not the usual aperitif snacks like chips or snacks, but pasta, rice, cous -cous, bread, vegetables and fruit. An aperitif for all tastes, especially for vegetarians.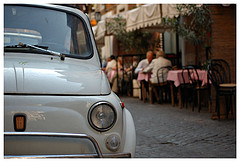 Some curiosities: Trastevere is the area where Alberto Sordi was born and in these "typically Italian" roads have been shot many Italian and American movies. Among them, "The Bicycle Thief" ( Vittorio De Sica, 1948), "Roman Holiday" (William Wyler, 1953), "Trastevere" (Fausto Tozzi, 1971) "Only you – Love at first sight" (Norman Jewison, 1994) and the more recent "Sacred Heart" (Ferzan Opzetek, 2005).
For more information about premises and accommodation in Rome, please click here.