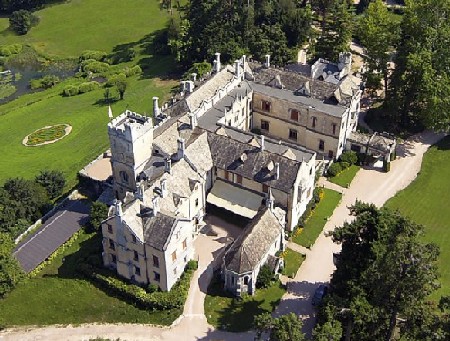 Castello Dal Pozzo has an ancient history and unique surroundings on Lake Maggiore. It is a charming eighteenth-century palazzo, fully equipped, with SPA and fitness center, conference center, luxurious bedrooms and intimate wine bar.
All the rooms offer magnificent views of Lake Maggiore from the ancient parkland boundary walls, protecting people from the stress of modern city life.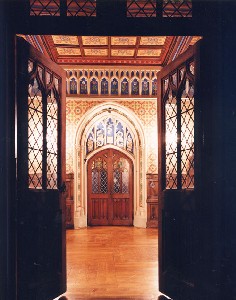 The aristocratic families of the Viscontis, Borromeo, Pallavicino and Dal Pozzo have dominated the area for centuries, and recently the Castello Dal Pozzo, set in exquisite Victorian parklands with a delightful English lawn, has been restored to its original splendour.
The architecture of the Castello Dal Pozzo has been defined by  British art experts as "the purest reinterpretations of Neo-Gothic Tudor as a manifestation of Victorian England".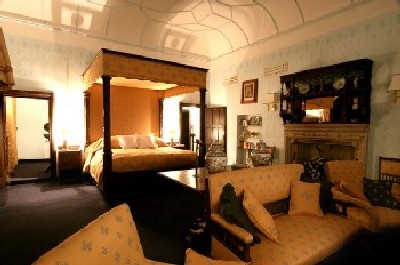 The Anglo-Saxon origins of the castle can be clearly seen in the architectural details: the central porch, and the massive square west tower, counterbalanced by the octagonal east tower and offset by the chapel.
This influence can also be found in the typical décor: stained glass windows in the chapel, wrought iron gates imported from Scotland, massive carved wooden doors and a generous scattering of bas-reliefs, busts and coats-of-arms on the exterior.
Someone says the some ghosts wander in the castle at night. Sometimes, during the night, it is possible to hear sighs and laments coming from the Tower. Some say that they have seen a shadow looking out from the window, as though someone was watching the Lake: popular belief maintains that it is the ghost of Madonna Barbara, which wanders restlessly around the Castle Tower in its vain wait for her beloved Messire Matteo.
Nowadays visitors can enjoy the charm of historic rooms, furnished with antiques and objects of art, carefully selected from the family's private collection.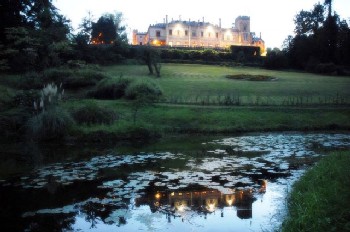 It has been equipped with a wide range of sporting facilities both in and around the park  like paragliding. golf, rafting, trekking, skiing, canoeing and mountain bike.
The surroundings offer the opportunity of shopping in some regional outlets offering excellent top of the range brand names such as Prada, Gucci, Safilo, Brikko or to enjoy motorboat tours of the world famous Borromeo Islands or to appreciate the regional flavours in gastronomic tours.
Clients can choose from a range of special offers, including Romantic Weekends and special accommodations for Honeymoons.
For more information about Castello Dal Pozzo and the Area, click here.