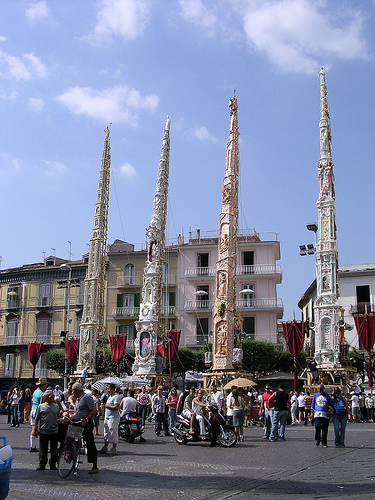 In a small town in the south of Italy lives a big tradition. The town of Nola is known throughout Italy for its amazing Lily Festival held every year in late June. The highlight of the festival is carrying large Gigli throughout the town on the day of the festival. Gigli are large wooden obelisks measuring twenty-five meters high. The Gigli are shaped as intricate lilies in commemoration of the festival.
Carrying the Gigli
To carry the Gigli, 120 men shoulder each one and walk throughout the town slowly. They march in time to a special band and move with reverence as this is a great honor to hold the Gigli. It is rumored that the men who carry the large obelisks every year have tremendous calluses on their shoulders from simply bearing the weight of the structures year after year. The calluses are treated with pride, however.

St. Paolini's Boat
In addition to the five giant lilies, a boat is carried about town as well. The boat is held in honor of St. Paolini, the saint responsible for protecting the town and freeing its men. St. Paolini protected the children of the village during a Hun attack. The men, however, were enslaved and one child was captured. The child's mother appealed to Paolini for help and he exchanged himself for the child.
For years, Paolini worked as the personal slave to the Hun leader until he earned his freedom. A condition of his own freedom was that of the men of Nola, and when Paolini returned in a boat after freeing the town's men, he was created enthusiastically with a veritable tide of lilies. This is the origin of the town's Lily Festival, and St. Paolini is still honored today.
The Lily Festival Today
The Lily Festival in Nola continues to grow and welcomes more visitors every year. In the small, pure Italian town of Nola, an ancient festival such as this one is a welcome treat to the traveler weary of more commercial events. Look for traditional music and many extra venues and attractions on the day of the festival. Nola is also unique in that the entire village is excited and participates in the day of the festival – it is a community effort involving all generations – not just the older ones as is the case in other areas.