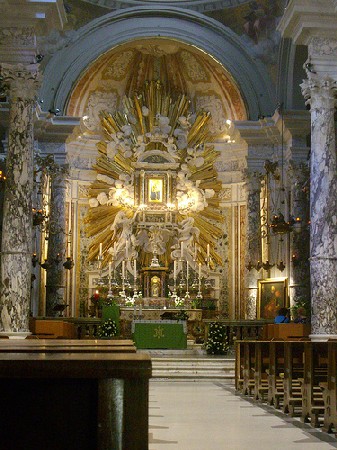 Montenero, located on a hill overlooking the sea and the port of Livorno, is among the most famous places of Tuscany, thanks to its famous sanctuary dedicated to Our Lady of Grace.
Visitors can get there by car via a street going up from Antignano or using the funicular railway from Piazza delle Carrozze.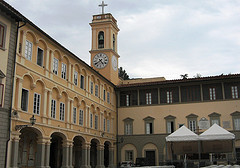 But tradition requires that pilgrims climb up the stairs starting at the foot of the mountain, while praying so to ask for a Grace at the end the trail.
The view that you can enjoy from the square embraces the city of Livorno, the coast and the mountains, offering spectacular and suggestive views.
Inside the shrine there is a gallery full of ex-voto, offered by devout pilgrims to Our Lady.
It is said that a crippled shepherd, around 1345, found a miraculous image, which asked him to be transported on the hill of Montenero. Heard the voice the shepherd did as he was requested and when arrived on top of the hill he was healed.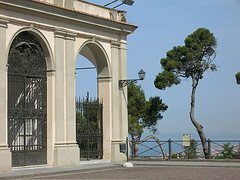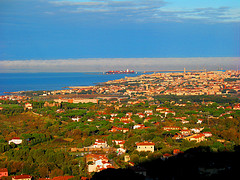 Since then, that image of the Madonna has never ceased to be a source of devotion and grace, and the sanctuary was born as the destination of pilgrimages and is visited by a large number of people.
Visitors can enter the church through an original elliptical atrium, richly decorated inside as a Latin cross. The main altar hosts the image of the "Madonna di Montenero" (as we said, the legend says it found by a shepherd on the beach, from where it had come from Greece, but it is more likely coming from a school of Pisa or Siena).
Hospitality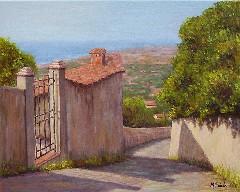 The great ex-workshop adjacent to the monastery, is now used as a guesthouse with comfortable rooms and kitchen, usually granted to groups. In special cases, visitors can share with the monks, the monastic life (only for men).
Activity
The pharmacy of the monastery sells liquors prepared by the monks.
Holy Messes timetable:
Sunday and religious days: 7:15, 9:00, 10:00, 11:00, 12:00, 17:00 and 18:00
Weekdays: 7:15, 9:00, 10:00, 11:00, 17:00
S. Rosary: 16:30
Sanctuary Opening Hours:
• 6:30 / 12:30 (Sundays and Holidays 13:00)
• 14:30 / 18:30 (Sundays and Holidays 19:30)
For more information, click here.