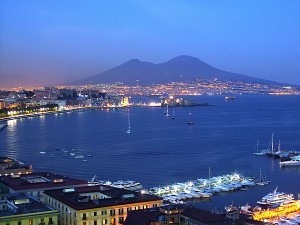 The Neapolitan Riviera encompasses many resort destinations in Southern Italy, although holiday giant Thomson list Sorrento and Ischia as two of the most popular getaway spots in the region. Jagged coastlines, misty mountain tops and crystal clear waters are common sights on the riviera, although the warm Mediterranean climate and amazing weather are what really draw the crowds to the southern Italian coast.
Mid summer temperatures in towns and cities along the Neapolitan Riviera frequently hover around the 30 degree Celsius mark, while winter temperatures are particularly mild, rarely dropping much below 5 degrees. Rainfall is generally minimal for the area, while humidity is typically average, not affected significantly by the Tyrrhenian Sea.
What is somewhat unique and remarkable about the Neapolitan Riviera in terms of weather is the unusually long summer season the region experiences. Temperatures often hit the low 20's as early as April, maintaining the heats until early November. For an area renowned for its white sand shores, this is great news for the tourist looking for a lively off-peak beach resort destination.
Many diving and water sports centres are open all year round, and the beaches start to become populated much earlier in the year than other tourist spots in Italy, with a far extended tourism season than that of the region's neighbours. As such, it's become a very popular choice for young couples without children and with older couples who prefer to travel outside of the usual school holidays in order to enjoy great deals and quieter surroundings.
If travelling outside of the festive period, visitors are unlikely to look out of place in a pair of shorts and t-shirt, even in a swimsuit on particularly hot days, although rainfall may be more frequent at the beginning and end of the tourist season. Even winter itself brings days of unexpected warm weather, so the region is ideal for visiting all year round.