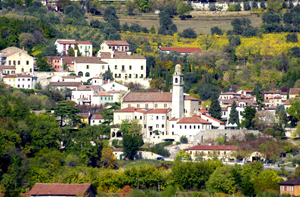 In the Veneto region just outside of Padua is the amazingly pretty town of Arqua Petrarca. This little town has a medieval feel which is accentuated by its relatively high position on the Euganean Hills. Mostly made of stone the town's streets are as tiny as the town itself. With only around 1800 inhabitants you really get the feel that you are off the beaten tourist track and in a world of your own.
The main attraction of the town is the former house of the poet Francesco Petrarca who as you probably guessed is the reason why the town is named as it is. Although this is not his birthplace he did live out his final years here and the house has remained in tact and has since been developed into a museum housing all Petrarca's poems and personal artifacts.
Apart from the importance of this poet and his literature the house is absolutely stunning and has a little garden to match.
One of the most fantastic things about this place is that it is yet to be 'discovered' so to speak by the lords of tourists that visit the surrounding towns such as Padua itself, Verona and Venice. For those of you who like to get away from the crowds this is the perfect place. It is an ideal base for your travels in Veneto as you can reach all the main attractions with day trips by car or train.
Arqua Petrarca has been recently confirmed in the list of the most beautiful little towns in Italy. This is designed to promote attractions like these which aren't advantaged by well known attractions.
In terms of accommodation there is a selection of rentable farmhouses, B&Bs and a handful of hotels so there is something for everyone.
Interestingly the town is split into two, high Petrarca and low Petrarca. Both having a church which has become a sort of town centre.
Coming to Italy most of you tourists have one thing in mind, food and wine. Arcqua Petrarca is no exception with its locally made products ranging from wine to local dishes. Of the locally made products that feature in the cuisine are the special honey and peas that grow in the area.
If you do decide on your travels to visit Arqua Petrarca, rest assured that you will remember this place for its cosiness and medieval village feel. Whether you visit during the summer months or in the winter you will find an atmosphere that can only be found in these small towns that aren't spoilt by bus loads full of tourists. It can even be the location for your next romantic weekend escape with its beautiful scenery, gorgeous food and wine and tiny alleys making it the perfect place to take the lady (or man) you want to impress.