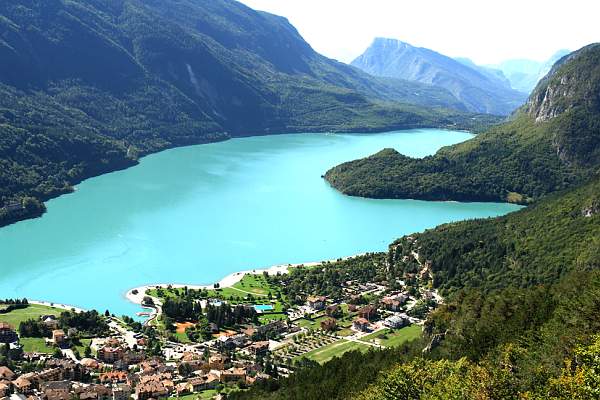 Looking over Molveno lake onto a scenery that is unique in its construction and beauty the mountains create a backdrop that is second to none and takes your breath away in the most spectacular fashion. From the regular tourist-guide-traveller to the most experienced alpinist this location offers something for everyone.
The town of Molveno is located in the Northern Italian region of Trentino at the foot of the Brenta mountain range.
If you are viewing the lake from its banks or are either high up on a walking track in the mountain ranges surrounding the town you will notice the beautiful shade of blue that is a characteristic of the lake. This contrasts with the vast amounts of green that touches the water on all sides.
For holidaymakers this place offers the beauty of nature found in the mountains with the benefits of being able to swim during the hotter summer months. The Molveno town has adequate facilities for families and couples wanting to swim in the lakes waters, which has been rated as one of the best swim spots in the whole of Italy. Considering the competition of this award of such places like the beaches of Sardinia and Sicily one can understand what is on offer.
In terms of hospitality facilities and activities the town is the centre whereby most tourists new and regular base their visit. A large array of hotels and restaurants make it a nice place to be able to return to after a long day of activities or sightseeing either on the lake or in the mountains. Accommodation is available in all forms such as luxurious hotels to rentable cottages giving adequate options to all types of traveller on any budget.
The sports that are most popular and are available in the area are trekking, swimming, tennis, fishing, horse riding and canoeing. This of course is just a taste of what is available and there sure to be something that interests you as Molveno caters for every age.
For the willing there is a variety of extreme sports such as glacier climbing, alpine skiing and nordik walking. Daily tours leaving from Molveno can be booked and provide a great way to see the sights in the area. For snow lovers a fantastic activity that is highly recommended is the skisafari which takes you on a tour of the Dolomites visiting spectacular places and leaving you with a real sense of the size of the Alps mountain ranges.
There is something about Molveno and the Brenta mountain ranges that along with the freshness of the air forces any of the city stress back home where it belongs and leaves you replenished by nature on your return to daily life. This natural therapy will surely imprint you with a wonderful holiday experience that will bring you back to Molveno many times in the future.