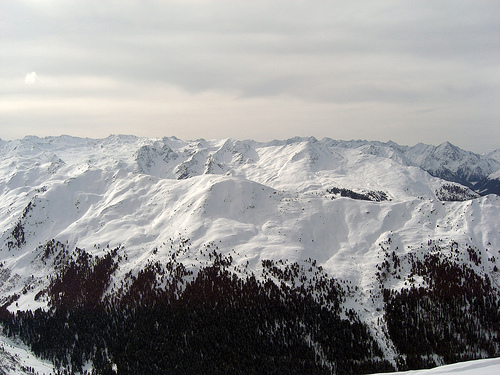 The French Alps are more prominently known, but the Italian Alps feature the same immense views, the exciting ski conditions and far less congestion. The laid back residents of the Italian cities near the Alps make it a peaceful vacation spot ideal for a romantic get away or a family vacation. In the Italian Alps, there is much more to do than ski and snowboard, mind you, although those are some of the most exciting venues offered on these gorgeous mountain peaks.
Exploring the Snow in the Italian Alps
The snow in the Italian Alps makes the perfect platform for exploring the region. Strap on a pair of snow shoes and you're free to explore the forests and breath-taking views on food. The snowshoes of yesterday are long gone and replaced with high-tech platforms that let you walk along the tops of the snow drifts exploring the virgin powder.
If you're a bit more athletic, take up cross country skiing. Ski the forests taking the winding trails and pathways this region is famous for. Downhill skiing and snowboarding are still immensely popular, of course, and with over 100 resorts in the Italian Alps, you have many options of locations to ski from.
International Ski Destination
In 2006 the Olympic games competed in Turin, or Torino. These games made the world take notice of the beauty of this Italian region. Italy is a country with tremendous personality and range. You can spend a few weeks in Italy and experience a full range of weather patterns.

High in the Italian Alps, you'll enjoy the winter scenery with frozen forests and hushed meadows covered in thick snowfall. Journey down the mountain and the richness of the land extends before you. Continue traveling toward the coast and you'll find the vineyards and even beaches warm enough to splash on – although it might be too cold for a full swim regalia.
But even the balmiest days along the shore can't replace the appeal of the Italian Alps. Powerful mountains. Strong snowfall. Winter games. These majestic peaks simply have it all. Travel into Italy and drive or commute into the mountains. Stay in a large lodge or take advantage of the hospitality available in the smaller bed and breakfast options. Wherever you stay, you'll love the richness of the people and the land.