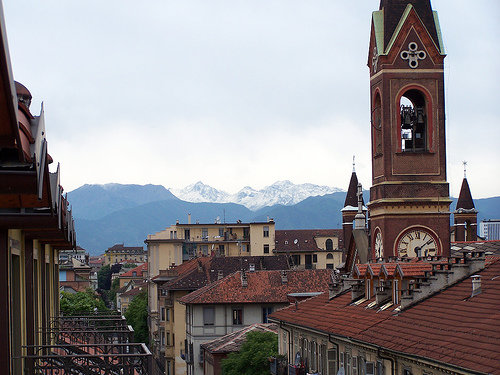 Take a break from antiquity with a trip to Turin, or Torino up in the foothills of the Alps. While you won't find giant ruins of the Roman Empire, you will find yourself in a charming town with plenty to explore. This bustling town has been home to the Winter Olympics is famous for religious artifacts and is an outstanding location for exploring the best of what nature has to offer in Italy – namely the Italian Alps.
Sights in Turin
Like every town in Italy, Turin has many sights to entertain visitors. Inside the city there is the Piazza Castello and Palazzo Reale in the center of the town. With benches, fountains and stunning architecture, this is an excellent place to begin exploring the city. Travel on to the Museo Egizio, known as the third most important Egyptian museum in the world. Wander the streets of Turin and you'll find numerous clever shops and cafes, and often these are the most interesting part of your visit.
Turin was one of the first café cultures in Italy, and even today it has some of the best food in the entire country. Small restaurants and bars are found on every street often side by side. From unusual coffees to decadent desserts, the food alone is one of the major elements of this mountain town.
The Mountains of Turin
Situated in the foothills of the mountains, Turin was the site for the 2006 Winter Olympics. Browse the famous structures left by the Torino Olympics, or just spend time walking through the beautiful mountains looking into the alpine restaurants and coffee houses.
Turin is an excellent base for exploring all of the mountains in this region. The Italian Alps are famous for outstanding skiing, but less crowded than the trendier Swiss Alps in the winter months. Make a base in Turin and then travel to the surrounding areas for winter sports. Not only will you be able to enjoy the rush of winter wind as you speed down the slopes, but you'll be able to enjoy the knowledge that you're skiing the same slopes as many of the best athletes in the world.
Winter or summer months are beautiful in the mountains of Italy. Skiing and winter sports are readily available in the winter months, but hiking and exploring the green lushness of the hills is a tremendous draw in the warmer months as well. Best of all, the cafes are open year round ready to welcome interested, hungry visitors.