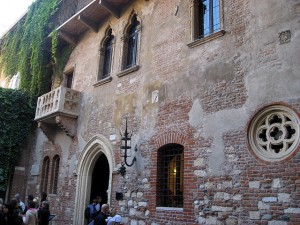 The movie, Letters for Juliet was intriguing recently because it dealt so closely with the romance and intrigue of one of Italy's most beloved icons. Romeo and Juliet was written by Shakespeare, but set in Verona – a thriving city in Italy at the time. The background for the Romeo and Juliet story actually dates back well before Shakespeare's time to the early Greeks, but the fact remains – Romeo and Juliet are not real people. They didn't actually have a star-crossed love affair. Yet this hasn't stopped thousands of women from writing to Juliet every year.
In Letters for Juliet, an American stumbles across a group of women who take the letters written to Juliet and answer them. The movie showcases the courtyard and balcony where Juliet is honored, even if everyone there realizes it's symbolic more than realistic. The courtyard is home to a bronze statue (which brings good luck if you rub her right breast) and a wall full of aging, cracked brickwork.
Young ladies write letters to Juliet, often asking for advice in love, and tuck them into the wall. At night, the letters removed and the next day brings another collection of notes and letters. In the movie, it is a group of women who answer each one. In real life, it is a group of volunteers in Verona who make it a point to answer the 5,000 letters that arrive for Juliet each year.
Some of the letters are left in the wall each evening, and others are mailed to Juliet in care of Verona. The group that answers the letters call themselves the Club di Giulietta. These fifteen or so volunteers are divided by languages spoken and romantic expertise. The letters arrive and the volunteers answer them with advice as real as they can muster. The practice has gone on since 1940 when a caretaker for the property began answering the letters.
The site that is considered Juliet's tomb and her house have been sites of pilgrimage for many years before the letter writing began. There are documents showing women crying at the tomb of Juliet centuries ago. Today, however, the innocence and romantic nature of Juliet's home and balcony are preserved through the hearts of the men and women who come to be inspired in love and those who seek the wisdom of Juliet – or at least her spirit.