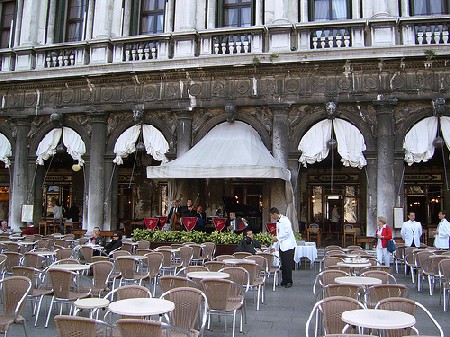 It is considered one of the oldest cafes in Italy and, given its prestigious location just under the arcades of the Procuratie Nuove in Piazza San Marco, it has become a symbol of Venice.
It Was inaugurated in 1720 by Floriano Francescani under the name " Alla Venezia Trionfante " but immediately began to be called Florian by his prestigious guests.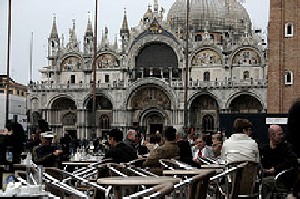 Three hundred years of history have passed through its halls and in front of his windows from the fall of the Serenissima Republic to the conspiracies of those who wanted to subvert the French and Austrian regimes, from the Unification of Italy to the World Wars.
The Venetians noblemen and politicians, as Daniele Manin and Silvio Pellico, sat there to discuss government issues, men of letters and artists such as Carlo Goldoni sought inspiration, unrepentant Don Juans, as Giacomo Casanova, entertained ladies there ( Florian was the first café in which the entry was granted to women).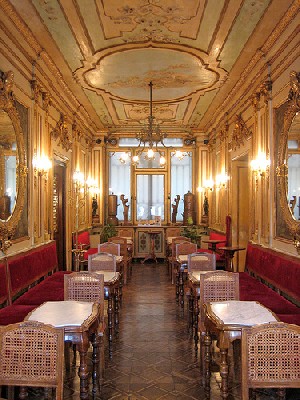 It was the place for gossip and chats, so that Gaspare Gozzi decided that it was one of the few places where it was possible to buy his Gazzetta Veneta.
During the XIX century Lord Byron, Foscolo, Goethe, Marcel Proust, Gabriele D'Annunzio, Rousseau, Stravinsky, Modigliani sat down to his table. Selvatico Riccardo and his friends decided at the Caffè Florian to organize a biennial exhibition of art, the International Exhibition of Contemporary Art and the Venice Biennale, which was inaugurated in 1895.
 Café Florian adopted the traditional idea of Coffee Concert with a permanent orchestra since the beginning of the xx Century and it is still the place where Venice and the world meet. There one may find himself sitting next to famous personalities and movie stars.
Among other things, it offers unique products: a wide selection of Coffee and Tea, scents for the house, accessories such as silk scarves and ties that one can also buy via Internet.
For Accommodation in Veniche, click here.