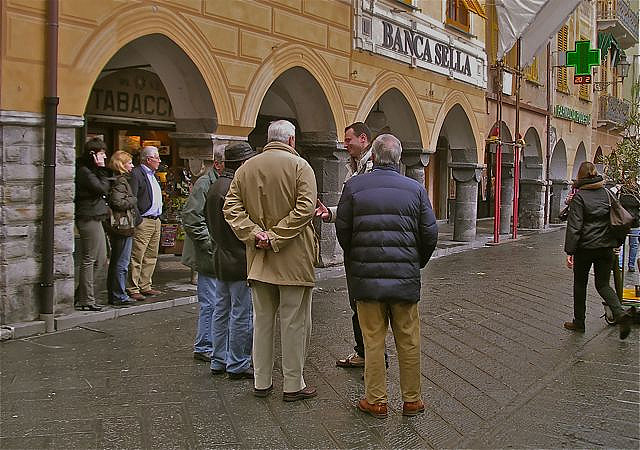 Italy is beautiful, and the culture is something you'll never find anywhere else. But the Italian experience will be significantly diminished if you neglect to pack certain things for your trip. Of course, you'll need clothing and a camera, but a trip to Italy requires some specific items you might not have thoughts of on other vacations; the items that are uniquely essential to Italy.
Leather Walking Shoes (Broken In)
If you're planning to walk for miles around the Enchanted City, your first thought might be to grab your faithful athletic shoes. What better way to travel the city in style and comfort than your favorite sneakers?
Unfortunately for American habits, the Italians aren't big fans of tennis shoes and sneakers. In fact, they believe the shoes only belong in a gymnasium and never on the streets of their city. If you're going to do some hiking around the city, you'll need to do it in some study, leather walking shoes. Flat, leather shoes or boots are practical solutions to this particular problem. Most importantly, break in the shoes before you leave for Italy – you don't want to be walking on blisters.
A Large Scarf or Shrug
The churches and religious buildings in Italy aren't especially open-minded when it comes to fashion. They require that shoulders and knees be covered. Most travelers pack a pair of pants, but if you're planning to travel in the summer and you're a specialist in tank tops and summer dresses, be sure to bring along a large scarf or a lightweight shrug. You need something you can throw on in the church and take off again outside in the heat. An item that folds up easily, like a scarf, makes the transition easier.
A Body Wallet
Sadly, a large city like Rome is a Mecca of purse snatchers who look for opportunities to lift wallets or grab and empty a purse. Enjoy a holiday with less stress by putting all of your essentials in a body wallet. These wallets are worn against the body, under the shirt or inside your waistband. Money, keys and cards can be tucked inside discreetly to protect yourself from thieves. Of course, getting things out of the money wallet can be a trick, so be sure to leave a bit of money deep in your pocket – never all of it, however – so that you can buy a drink or pay a bus fare without a grand production.