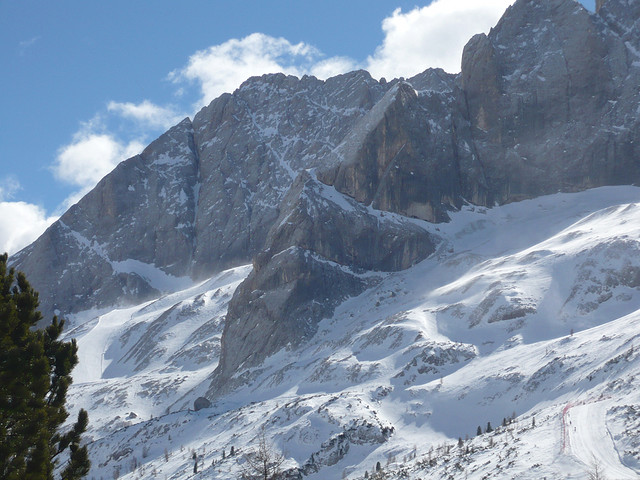 The Alps of Italy are one of the hidden treasures of the country. When you're spending time in Italy, you'll see endless sights and experience a great deal of culture in the cities, but arrange a trip to the northern portion of Italy in the winter and you'll find yourself in an amazing culture totally unlike that of the southern cities. It doesn't hurt that you'll also be surrounded by world-class ski conditions.
Italy Ski Towns
The town where you choose to stay for your ski trip makes a tremendous difference in how much you experience during your stay. Fortunately, Italy has many beautiful ski towns that have adorable gingerbread houses and a fun nightlife.
The town of Canazei, for example, has a perfect mix of beautiful buildings, fun bars and evening attractions. Canazei is great for a couple who are looking for outstanding skiing and an exciting evening. Other ski towns like Courmayeur are a great destination for families. The old-fashioned town has pretty cobblestone streets and more family-oriented pubs and restaurants as well as plenty of shopping for the families looking for souvenirs.
Italian Skiing
The quality of the skiing is unparalleled in Italy. The Italian Alps have a nice combination of easy, moderate and challenging slops as well as some of the most difficult skiing conditions in all of Europe. You can ski an easy warm-up run in the morning and then walk over just a few feet and ski routes that challenge even the most advanced skiers in the world.
Families will enjoy the variety of slopes as well as the quiet Italian ski towns – these are not the giant resort towns you'd expect to find. For those looking for an intimate ski adventure, you can stay in a small cottage, ski the slopes during the day and walk along the streets experiencing the rich culture of the towns in the evening. Wine, Italian hill towns and winter athletics combine to make the perfect blend for a family or individual vacation.
Winter in Italy
Perhaps one of the most interesting things about Italy in the winter is the opportunity to do many things on the same trip. You can easily stay in one of the ski villages for the first part of a trip and then board a train and find yourself touring Tuscany in a light jacket for the remainder of the trip. Italy is a country with a great deal to offer in all seasons of the year.