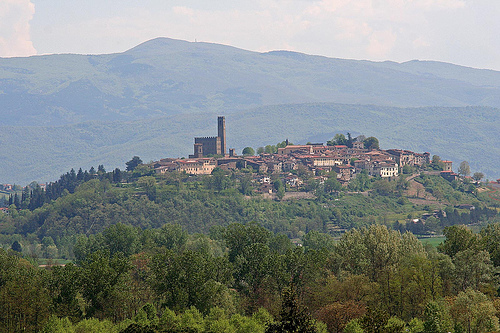 Poppi is a small Tuscan village in the municipality of Arezzo located in the center of the Casentino Valley. The Casentino is one of the most beautiful valleys in Tuscany and the village of Poppi is on an isolated hill that dominates this green valley.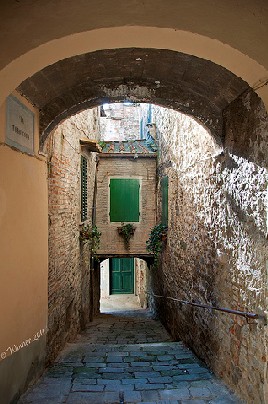 Poppi has medieval origins, when in the fifteenth century Conti Guidi built here their castle. This is a city still surrounded by walls topped precisely from the castle.
The castle, which can still be visited, is a work of great artistic value. The facade consists of mullioned windows and a tall tower in the center. The walls of the battlements remain intact and everything is surrounded by a wide moat.
Inside there is the Rilliana Library, housing hundreds of medieval manuscripts and incunabula. Very interesting to visit I is the chapel of the Counts where it is possible to admire a series of fourteenth-century frescoes by Taddeo Gaddi, a pupil of Giotto.
But the castle is not the only interesting work of art. Coming down from the castle to the village and inside it there are other ancient architectural structures worthy of note.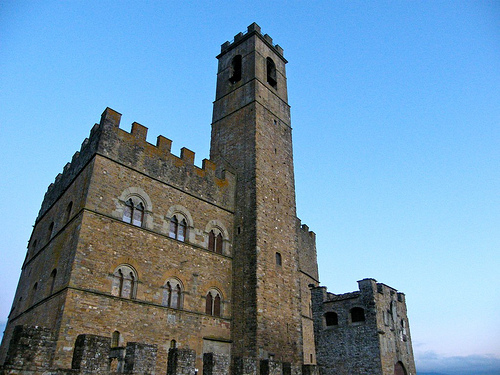 The first is the Rectory of St. Marco and Lorenzo (dating from the eighteenth century). In front of it, in the main square, there is the oratory of Madonna del Morbo (seventeenth century): it is a hexagonal building with a dome scales surrounded by a portico.
Going forward there is the Abbey of St. Fedele (dating from the eleventh century). This church has the bare stone walls adorned with works of art such as the fourteenth-century board of the Madonna and Child, a crucifix by Giotto'school and valuable paintings.
Finally there is the monastery of the Augustinian (dating from the sixteenth century). Here it is possible to admire the exquisite terracotta by Andrea della Robbia's school.
The typical products of the area are also very interesting: the famous "panno lana " (Wool cloth) originally used by monks and later become a local tradition and the laboratories producing organ pipes.
How to get there:
By car: Highway A1. Exit at Monte San Savino and then follow the directions "Poppi" on the provincial road SP19.
By bus: There are regular public transport from the nearby city of Arezzo.
Photos by: michele zaimbri, vecchio_lupo, Paolo Ammannati, Winner and tizzanini.