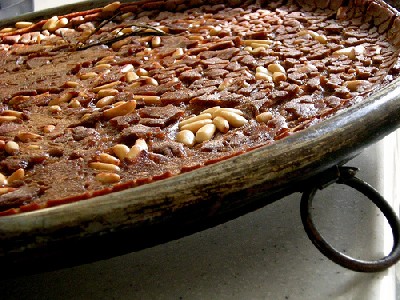 The Castagnaccio is a very special cake, made with chestnut flour, enriched with pine nuts, raisins, walnuts and rosemary. It is made with few ingredients and needs a very simple process.
It is a purely autumnal dish, typical of Tuscany, where the chestnut is widespread.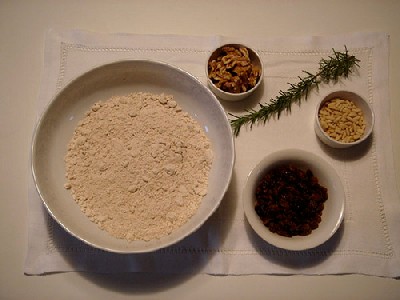 The Castagnaccio, like most traditional recipes, was born as a dish for poor peasants, since the chestnut was a very popular food in the countryside, very nutritious and cheap.
Ingredients:
• Chestnut flour, 300 gr.
• Sugar, 4 tablespoons
• Water, 1 cup
• Extra virgin olive oil, 2 tablespoons
• Raisins, 50 gr.
• Pine nuts, 50 gr.
• Shelled Walnuts, 50 gr.
• Fresh Rosemary, two sprigs
• A pinch of salt
Preparation:
– First, turn the oven to 200 degrees.
– Sieve the flour into a bowl and gradually add water, stirring with a fork to remove all the lumps. The flour used for the chestnut is called "sweet", which is sold in the month of November, so you need to add a very little sugar according to your personal taste.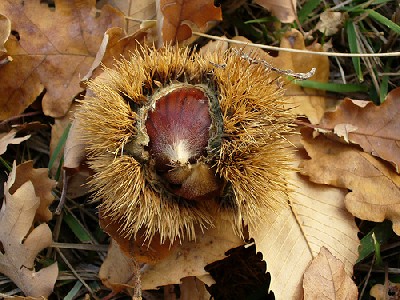 – When the flour is well mixed add the sugar, the salt, the raisins (previously softened in warm water) a small handful of pine nuts, a very coarsely chopped walnuts, and two tablespoons of oil.
– Stir the mixture to make it uniform and pour in a low baking dish, greased with plenty of olive oil, or coated with a sheet of greaseproof paper.
– Keep in mind that the chestnut is not growing, so if you prefer it thicker the pan should be smaller and higher. With a very thin layer, instead you get a crisper chestnut. In any case, the thickness ranges from an inch to inch and a half.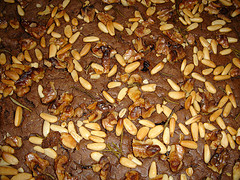 – Decorate the surface with the remaining pine nuts, walnuts, rosemary and a little oil, then bake for about 30 minutes (cooking time, however, depends on the thickness of the layer). In any case, a well-cooked chestnut must have the surface cracked and dry.
– The chestnut cake is served warm, cut into large squares and perhaps accompanied with ricotta cheese.
A legend tells the leaves of rosemary used to perfume the chestnut is a powerful elixir of love: the young man who eats the cake offered by a girl, will immediately ask her to merry him.
Where to stay and eat in Tuscany.