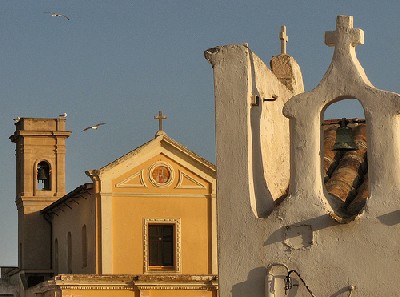 Gallipoli is located in the heel of Italy, in the province of Lecce, on the west coast of the Salento peninsula.
The town is divided into two parts: the historical centre built on an island of limestone and connected to the mainland via an arched bridge and  the Borgo, the new part of the city.
In ancient times Gallipoli was a Messapian centre named Anxa. After it occupied by Romans and with their domination it became a very important trading town in the sale of purple dyestuff, produced in the region.
For a long time Gallipoli remained loyal to its old Greek culture by preserving its habits, rites and dialect. The Latin Rite, which had already been established in Salento from medieval times, only replaced the Greek Rite in the XVI century.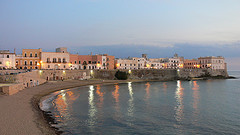 After the fall of the Roman empire, Gallipoli was sacked by the Barbarians, the Vandals and even the Goths, who were defeated and driven out by the Byzantines.
The Byzantines were followed by the Suevians and Angionians, whose traces are found in the restoration of the old Byzantine castle later modified into a fortress. Then the castle was fortified during the Spanish occupation.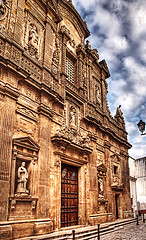 The old part of the actual Gallipoli, fortified by walls, embankments and towers, was subject of numerous sieges. Two of the most famous are the Venetian siege of 1484 and the French one of 1528.
Even though many single important monuments and pieces of art, like churches and castles, are located there, the main reason to visit Gallipoli is its historical centre.
It is located on a small island, a kilometre and a half wide, and it is peculiar for its narrow alleys and little street mixing as in a maze.
The old buildings, once used to defend the city from invaders, now defend it from the sea and offer with their monumentality the opportunity to take a step back in time, enjoying a charming atmosphere and enchanting views.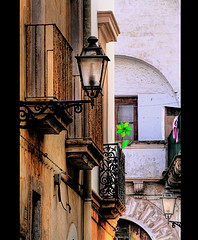 In Gallipoli there is the Cathedral, in pure Baroque style, containing paintings and internal friezes of rare interest.
Visitors can also admire a Hellenistic Fountain situated near the bridge of the city. The fountain is full of bas-reliefs picturing Greek mythology scenes.
Nice to visit it is also the Sanctuary of Madonna del Canneto, which faces the fountain and which contains an interesting ceiling dating back to the XVIII century.
GallIpoli is also a well renowed destination for sea-loving tourists: it is suitable for families thanks to the fine sand beaches, like Lido San Giovanni, and it is recommended to diving and under-water fishing enthusiasts.
Where to stay on Salento Coast.