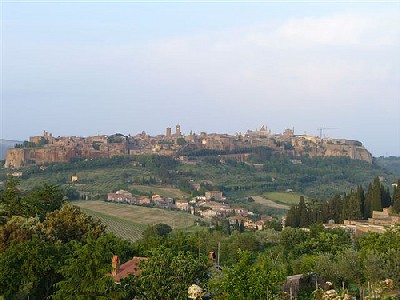 Orvieto is a town of 21,043 inhabitants in the province of Terni, in Umbria.
The city of Orvieto, in symbiosis with the tufa cliff on which it stands, is an outstanding example of integration between nature and man.
Visiting this town is like going through history, because there are layered and concentrated traces of all ages for almost three millennia.
Its origins are Etruscan, witnessed by a cemetery and some artefacts. It became a Roman town and disappears in the VI century. It was conquered and lost several times by the Byzantines and the Goths, to be later occupied by the Lombards. Then it entered in the Papal States until the unification of Italy.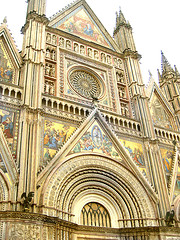 The profile of the Dome, symbol of the city all over the world, emerges from a distance and it is like suggesting to leave the car to walk towards the fortress. That's also why the town of Orvieto has restored an old funicular railway connecting the train to Orvieto's old town. But a large covered car park is also available in Campo della Fiera, with an efficient system of escalators and lifts on tufa rocks leading to the medieval quarter, and served by comfortable minibuses for fast connections.
To appreciate the unique panorama, it is worth climbing on top of the XIII century Torre del Moro, the highest point and central area of the town, where the sight embraces the green landscape surrounding the whole town.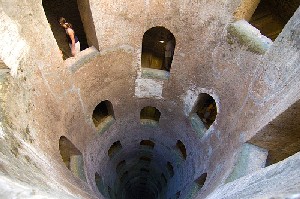 The heart of the city of Orvieto is Piazza del Duomo with ancient palaces and Cathedral with its wonderful facade.
At the corner with Via del Duomo it is visible the tower with automaton that chimed with his beats the time of the centuries-old site of the factory.
The beauty of the city of Orvieto is also enriched by the two important Etruscan necropolis located at the base of the cliff [necropolis of the Crucifisso del Tufo – Loc San Martino – Orvieto Scalo], and by the underground part of the city.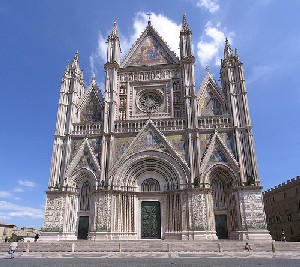 The latter was enlarged during the Middle Ages for different purposes: the creation of reservoirs and refuges for the breeding of pigeons, so to become a true city dug into the mountain. This hidden city can be visited following the route for Orvieto Underground, also including St. Patrick Well, built by Antonio da Sangallo for Pope Clement VII in the XVI century and open to the public.
It is also very interesting the Civic Collection distributed among Museum Claudio Faina, Archaeological Museum and Museo dell'Opera del Duomo.
Where to sleep in Orvieto.